My Daughter is the side chick of my husband. 
What's is going on with our future leaders? Our children? We work hard to provide for them,to keep them safe but they still not grateful! Our efforts are not enough for them despite the sacrifices we make for them they still tend to hurt us, lie to us and even steal from us.
Today we will talk to a heartbroken fiance, mother of 2 who says that her soon to be husband is having a relationship with her first born daughter and she caught them in action. 
It's a heartbreaking time for our guest today as she is left speechless by the doings of her only daughter (names will be changed inorder to keep thier identity a secret).
Ntswaki (38 years old) mother of Kedibone(18years) and Blessing (6years) is a hard working mother trying her very best to raise and give her children the life she never had, she lives with her children and boyfriend Bongani(36 years) who is the father of Blessing in a RDP house that she inherited when her uncle passed on. 
Ntswaki(cashier at shoprite) works Monday to Friday and sometimes also on weekends says her boyfriend Bongani works at a petrol station nearby.
"I once found out that Bongani was cheating with a girl at the same petrol station he works, but we talked about it and he broke up with that girl because I was pregnant with Blessing at that time and he recently finished paying labola" says Ntswaki who didn't know that her boyfriend will cheat again with her daughter this time.
Ntswaki said her daughter had a boyfriend once because she was always going to malls and the movies and she say she met this boyfriend of her daughter who was a student at the same school her daughter was attending. 
"I think they broke up because Kedibone wasn't going out as usual and her boyfriend stopped coming over that was around March last year when they were home because of this covid."
Kedibone lived with her grandmother in a different zone, but had to move in with her mother because her grandmother passed away.
"Kedibone was a smart innocent girl but she changed when my mother died, she moved in with us 2 years back, she performs well at school. I buy her everything she needs and we lived happly." says Ntswaki.
Ntswaki says her daughter didn't have a problem with Bongani, they were not close and Kedibone respected her and even called him dad. 
"Bongani treated Kedibone like her own daughter because there times when he would buy her stuff she needed when I asked and also give her pocket money when I didn't have." says Ntswaki.
Ntswaki says Kedibone and Bongani started getting along during stage 5 of covid. She says they started watching television together and at first they were always in different rooms,and like every mother it's happy to see your child getting along with her stepdad. 
"I was happy because Kedibone always use to sit in her room alone even when I was home, but things changed I thought it was because of the extreme stage 5 of covid and we sometimes spent times playing boardgames and watching movies together as a family"says Ntswaki
Blessing is an energetic boy who spend most of his time playing with his friends at the park. But during this time Blessing was at his grandmother. Bongani's mother loves Blessing, he is Bongani's only child and Blessing always visits her so we agreed that Blessing should go live there with her grandmother and aunt.
"I suspected that Bongani was cheating again because he didn't give me the attention he used to. I went through his phone but didn't see anything showing he is cheating. Around May last year Bongani brought Kedibone a phone I didn't ask questions cause i thought she asked him." says Ntswaki. 
Once Kedibone had a phone she started being lazy and stoped doing her chores in the house. 
"I'd go to work and come home to a clean house, I just came home and cooked, but since Kedibone had a phone I would come home to a dirty house while she is sitting watching tv. I once shouted at her and she told me why don't I do it myself it's my house " Says Ntswaki
Ntswaki went through his boyfriends phone again because she had a hunch that he is cheating again only this time she found whatsapp text messages of her daughter and boyfriend. Take a look below. 
 Ntswaki says her friend once asked why is Bongani and Kedibone always locking the door during the day she noticed that cause she always take her child to Kedibone so she could babysit, a week after she saw the whatsapp messages. 
"I didn't want to believe that my boyfriend might be sleeping with my daughter but I had to find out and with my friends question and the whatsapp messages I didn't have a choice I had to see for myself." says Ntswaki
Bongani works at a petrol station six days in a week. He sometimes works day shift and sometime night shifts. Ntswaki knew the only way she was going to find out was if she caught them red hand. So one Saturday when her boyfriend was working night shift, she took a half day at work to see what is going on when she not in the house. 
"I came home and found the door was locked. I have my key so I went in the house was quite as if no one was home,both the bedroom doors was closed. I open Kedibones room and it was empty and when I opened my rooms door I found my boyfriend ontop of my daughter. Kedibone saw me and instead of stopping her stepdad she moaned louder and yelled go deeper daddy!. I didn't know what to do I remember shouting Bongani's name and he jumped from her and started apologising. Kedibone walked out if the room naked and said I'm a nuisance and don't have timing."
What do you when a child you raised is having an affair with your boyfriend? 
Ntswaki says she broke up with Bongani who claims that he didn't want to do it but Kedibone seduced him by walking around the house naked when it was just them and he is a guy, he couldn't stop him. And Kedibone says she is inlove with her stepdad and she didn't want to hurt her mom but she had no choice because his stepdad is a catch and is amazing at making love. 
"I am sorry to say this but I hate my daughter I curse the day I gave birth to her. I chased them away. How will I be able to forgive or trust her after this? I am even ashamed to call her my daughter!" Says Ntswaki.
Kedibone is now living at a friends house and it looks like she is still dating her stepdad because people including her mother always see them together at night. 
How do we respond to such heartbreaking actions and behaviours of our future leaders? What is happening in this world? I feel very sorry for Ntswaki and hope she finds it in her heart to forgive them so she can find peace.
Pictures below.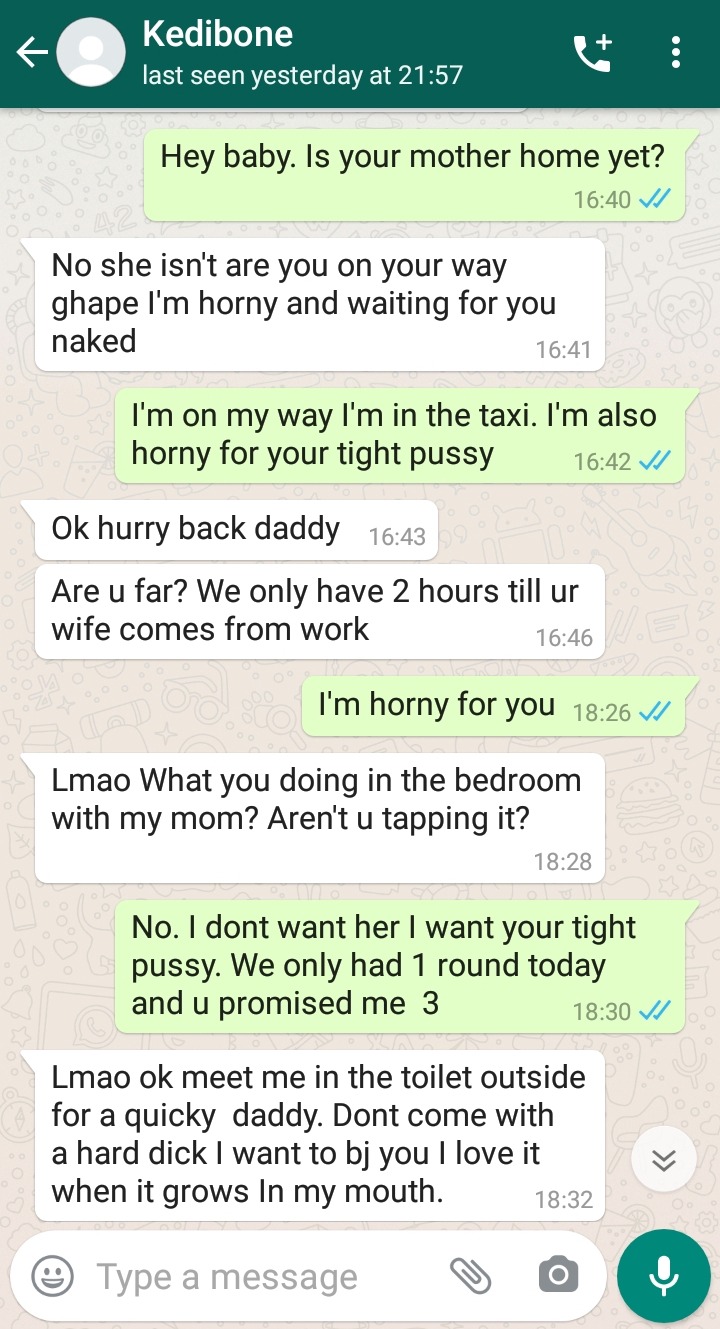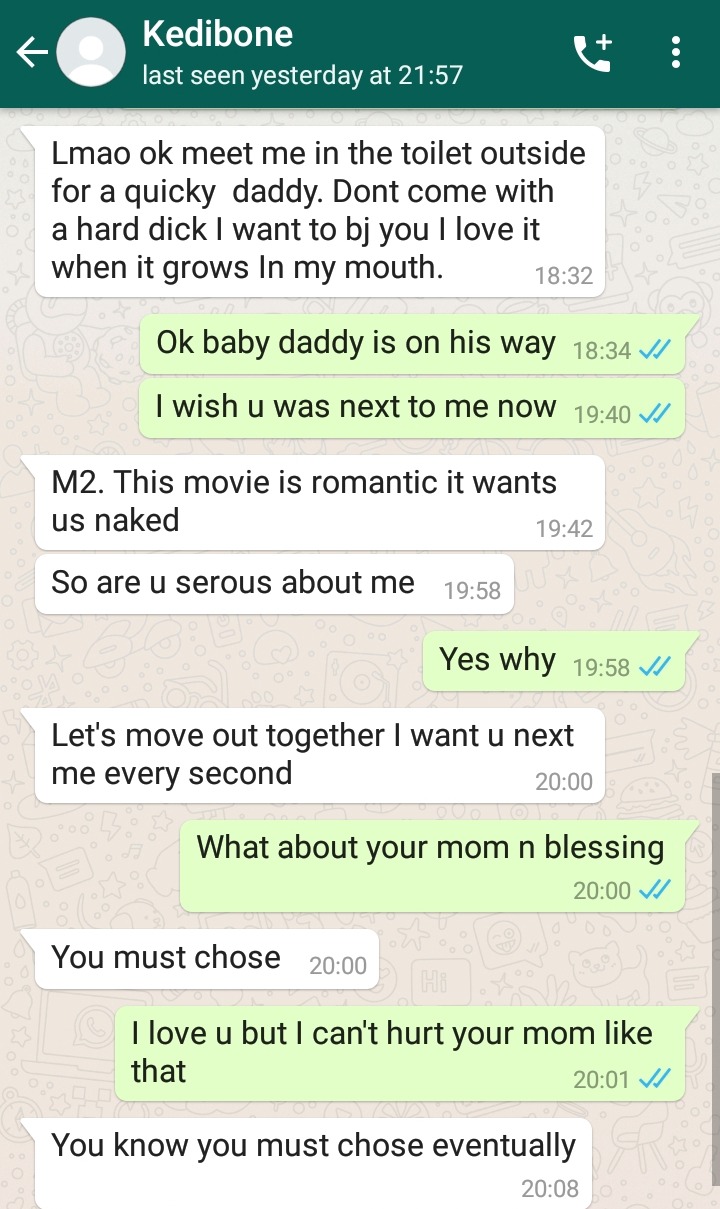 Content created and supplied by: SIMPLYCYNN (via Opera News )
Opera News is a free to use platform and the views and opinions expressed herein are solely those of the author and do not represent, reflect or express the views of Opera News. Any/all written content and images displayed are provided by the blogger/author, appear herein as submitted by the blogger/author and are unedited by Opera News. Opera News does not consent to nor does it condone the posting of any content that violates the rights (including the copyrights) of any third party, nor content that may malign, inter alia, any religion, ethnic group, organization, gender, company, or individual. Opera News furthermore does not condone the use of our platform for the purposes encouraging/endorsing hate speech, violation of human rights and/or utterances of a defamatory nature. If the content contained herein violates any of your rights, including those of copyright, and/or violates any the above mentioned factors, you are requested to immediately notify us using via the following email address operanews-external(at)opera.com and/or report the article using the available reporting functionality built into our Platform See More