Preparing home cooked meals is not for everyone, that is why so many people prefer having meals at restaurants. Women have to make sure that their men are well fed by preparing them delicious home cooked meals, and that's according to African culture. This is one of the beliefs that the antediluvian devised to oppress women back in the ancient years even more.
Women back then had to stay home, look after kids, do the laundry, sweep the house and cook for their families but thanks to the rights, they alleviated the toughness women used to face. Nowadays women too are able to go out, get any type of job they want and earn a living. Some of us guys are struggling financially but because our wives or girlfriends are employed they help us when we are going through financial constraints. Isn't that a good thing ?
Keep in mind that money is usually tied up in feelings about power and control in a relationship. Having as much balance as possible between two partners can make it less stressful for both. Extreme financial stress can sink the ship of any good relationship. Funny enough, for others money isn't everything and having as much stacks of money as possible doesn't mean a thing, only the love does and it is the most valuable thing that counts !
These days even guys do help women they fell head over heels in love with by doing the house chores and cooking sometimes, and there's nothing wrong with that. It's what real men do and the type of men Andiswa Madikazi Motsepe needs.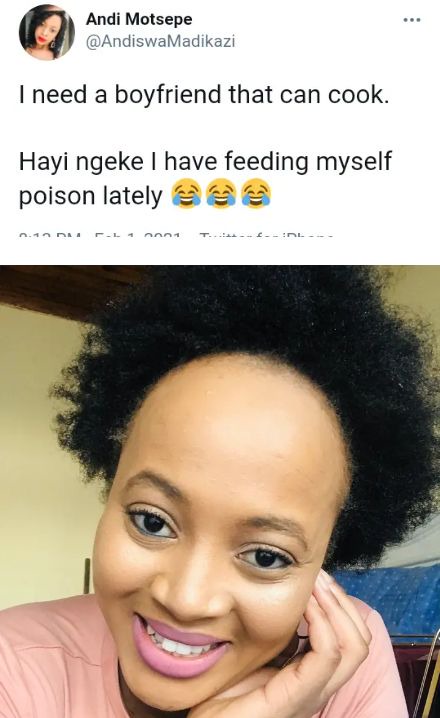 She claims that she's been feeding herself toxicants lately. This is the valid reason why she needs a boyfriend that can cook. There are quite a lot of chefs out there and with luck on her side, the omniscient Lord might send one.
Joshua 1:9 - "Have I not commanded you? Be strong and courageous. Do not be frightened, and do not be dismayed, for the Lord your God is with you wherever you go".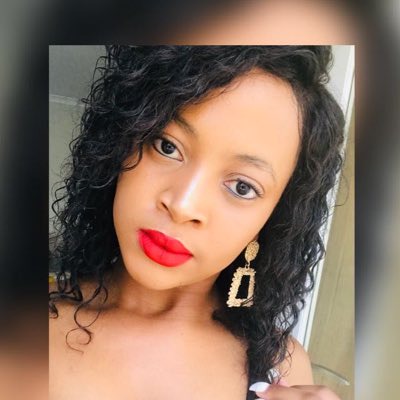 Take a look at Andi Motsepe (@AndiswaMadikazi): https://twitter.com/AndiswaMadikazi?s=01
Content created and supplied by: Septic (via Opera News )