I am an air sign, fire is my means of expression. The comprehension in my word is forged in the conceiving fire of lived experience. Thermodynamics of an already constructed, constituted world, my personality, the manner in which I perceive things. How I act, the method in which I interact and how I understand.
Fire in my nostalgic memory of gathering around the African village home cooking hut fire to listen to my school teacher grandmother. Fire the blazing, stage setting to the conjuring of words in folk tales to the greedy imaginations of her grandchildren, as we gathered around in rapt silence captivated by the adventure in her stories.
Prescribed burning fires in the cyclical clearing of field harvests of hand-worked family fields. Fire after harvesting time akin to the sacrificial nature of our ancestors, for rebirth. Fire in my village home is still used for waste disposal. Our homestead has a designated pit where rubbish is thrown and regularly set alight.
Fire in the healing practice of my mother and grandmother who, after picking leaves or digging root, would prepare and boil, over a pot of fire the remedy for illness, wound, or affliction to our bodies.
Fires of the cooking hut, the hub that sets the backdrop to the rituals of birth, marriage, and death in our customs. The cooking fires are started early, giving the hut and its immediate surroundings a magical glow, way before the sun arises in shine.
Fire fueling my passion for words, how they read, what slight changes in sentence structure can contort the words to shape meaning entirely different. Sparks of irritation at careless misspells or conduct of word. Fire alight in the literary expression of greats whose expression, form, and elocution send me rushing in fervent excitement once again to my notebook or laptop to write, hoping one day I can occupy the space to pronounce the words, "I am a Writer. I have written. I am writing…"
Fire flares for my lover. The man who ignites a self I am glad to finally come home to. Incidentally, maybe, he is a fire sign. He is compelling, passionate, and temperamental. I fan his flames for each address, soft blown relaxation, strong gusts of encouragement, gravity-defying storm winds in fury. Combustion in his response. His will is stronger than mine, you see. He flames, blazes, and burns in response. He has never scorched nor does he reach inferno. His fire in the mutually appreciated debate. Fire in the response he commands of me as I reclaim my SELF.
Fire and brimstone energy as I erupt in volcanic anger because no therapy has calmed the nightmare reserves of the injustices overlooked, unmitigated, raging fire library of experiences. Decades of socially accepted incidents of physical violence, sexual violence, and systemic racial oppression, whose stimulus is ignited by a familiar. My Fire man remains stoic, his strong, calm words remind me I am a stallion rider. To ride the fury of my pain and reign control over the ill-behaved beast. After, I light a match putting fire to sage purifying the air in every room of our home to clear any lingering negative from my recent outburst. Fire in the candlelight of our lovemaking and in his sign, fanning my air. Flames on fire, dancing heady intoxication onto our consuming lust for each other.
Fire still prominent in my life as I cater to friends and family over holidays and weekends when we barbecue in the backyard. Laying seasoned meat, fish, and vegetable over the fire for nourishment and flavour. Later we wittingly or unwittingly sit around the warm, comfort of smouldering fire embers to enjoy wine and share life events, love stories, problems, and embraces.
Fire in my spiritual as I light candles and sage at my altar to speak to my ancestors after every emotion of my excitements. Announcing my presence to loved ones as I strike a match and begin to share, joy, fear, insecurities, asking for continued guidance, blessing, and protection. Fire in the response flickering length, shape, and colour of the candle flame as my ancestors hear me pour my heart out to them.
Fire is never far as I regularly find myself lighting candles and making a scrumptious barbecue for dinner. Oftentimes we suffer frequent electrical power shortages resulting from incompetence and corruption in our governments' parastatal power supplier. Fire sings through my veins as I think unto the individuals in echelons of power I cannot reach, beware the baptism of fire by a collective people who will rise against you in revolt.
Fire in the form of brutal language by impoverished society, responding to the 'open fire' of police, using live or rubber bullets, teargas and dogs to disperse a peaceful protest. Frustration festers, anger boils and hostility erupts at systemic structural, sustained, reduced budgets in education, health, justice, and denied basic human rights. Fires erupt when police respond to the politics of a community in need of understanding.
I play with fire in the frustrations of corporate office, where my looks and freedoms don't belong. Kindly voice of elderly executives attempted to enlighten me to my need to assimilate into constructs of "the West," for survival. These esteemed "halls of distinction" chain the generous curve of my body, reject the untamed wild of my hair and conflagrate my thoughts. They unknowingly set wildfire to my curious, interrogating voice. Burning every bridge between us. The shared wisdom of my friend rings loud and true, "You are not required to set yourself on fire to keep other people warm."
I was born, along with others like me, into a symbolic fire representing the multitude of complexities and struggles we face. Emblematic of the sometimes subconscious messaging of sex, culture, class, colour and spirituality. Our fires dance in celebration of resilience, presence, and emotional response to our surrounds. I am an air sign, ideas are always in motion. I may seem to breeze through life, I may also bring winds of change. Fire is my means of expression.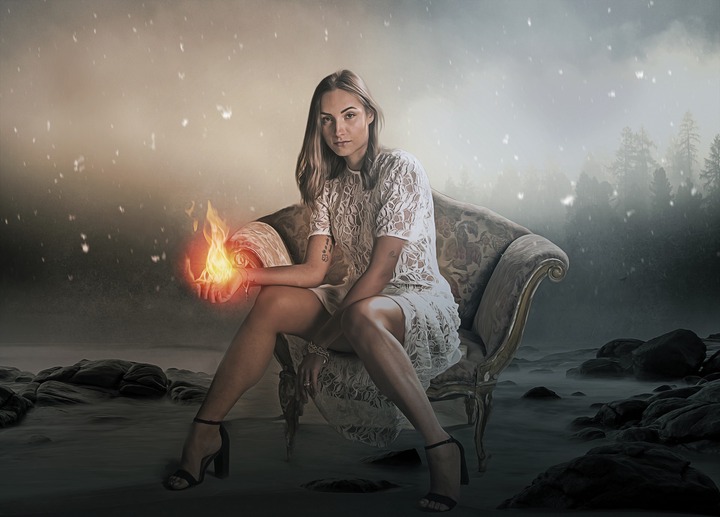 Content created and supplied by: MarciaVilakazi (via Opera News )