A confession from an anonymous 20 year old on Facebook has left many trembling in shock and disgust.A 20 year old girl confessed to having an affair with her best friend's 49 year old father, the father is married.
The anonymous girl wrote Please hide my identity. I have been secretly dating my best friend's for the past 6 months. He is 49 and I'm 20 turning 21 this year. He treats me well and respects the fact that I am in a relationship. He always includes me when they go on family vacations and we always manage to steal a moment and shag.
His wife is like a mother to me. The problem is I found chats in my boyfriend's phone where my friend was literally flirting with my guy. I asked her about it and she said it was just innocent. Ever since then I stopped trusting her. Her father is very weak when he is with me, I always help him to draw their household budget when we meet at our secret place.
I'm planning to convince him to cut my friend's monthly allowance by half, just to teach her a lesson to respect our friendship. I know you will judge me for being a bad friend but from where I'm standing she is the bad one. A friend must stay away from her friend's boyfriend,that's friendship 101 people.
Here are the comments from twitter users regarding this unbelievable confession.
-Here in Vaal we actually know a story whereby a Daughter is in love with her biological father and they are in a relationship.
-She must forgive her friend. I mean, she is technically the stepmother to her friend.
Remember Cinderella? We can't go back there please.
-Noooo. A friend must stay away from her friends father!!
Wtf. Imagine if he gets a stroke while they're together?? Yhuu!!
-Maybe she already knew you dating their father so she felt hurt too and disappointed so she is aiming to end the friendship between the two of you by cheating on your guy
-Bathong,she wants to cut her budget.These kids are wild
-Bra next she will be telling the father to send the friend to a naughty corner, she is really taking this step mother position to heart
-Sies, people get shagged and think they'll be wifed up, he just wants the perky tits. The brain is still 5 years old. How can she say the woman is like a mother to her then do this yeses ma 2000 a tswa ga diablos
-smell regrets it this relationship with old crocs & this young star. But let me mind my own business & tool.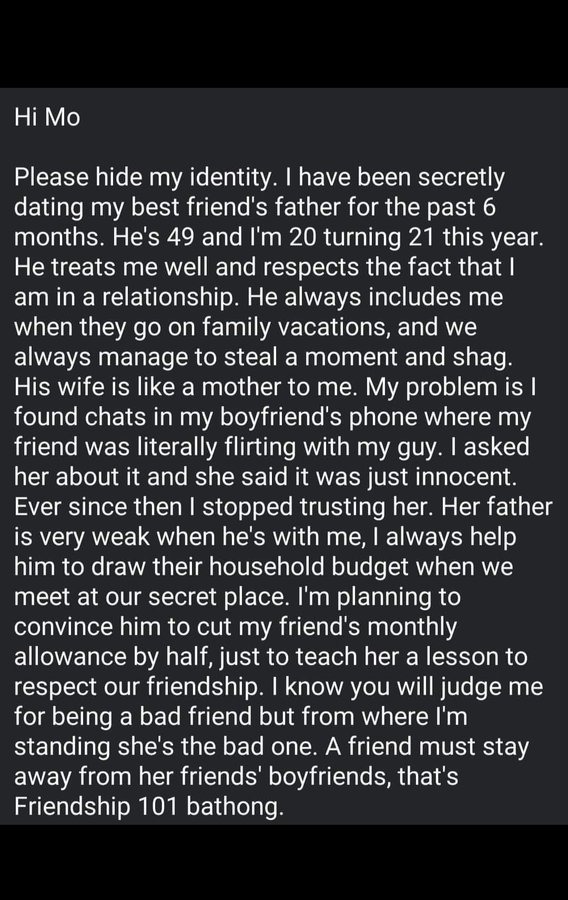 Please kindly follow for more updates. 
Content created and supplied by: Luther5 (via Opera News )