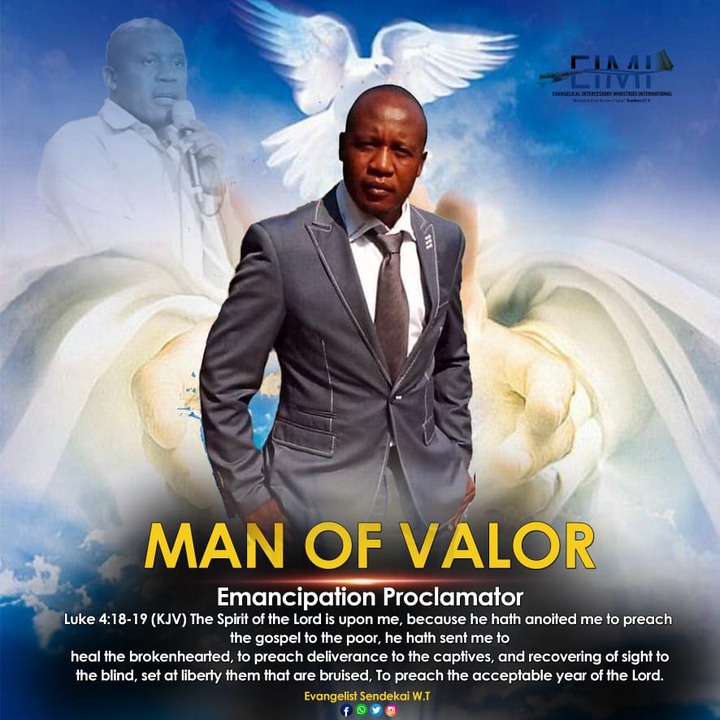 ABOUT TIME AND REDEEMING THE TIME
➖Evangelist Sendekai W.T [email protected] 
Time is the continuum of experience in which events pass from the future through the present to the past
Synonym: time
Hyponym: biological time
civil time
continuance
continuum
cosmic time
daylight saving
hypernym: attribute
Thereis an asset shared equally by billionaires and paupers alike and as you read this...it keeps ticking away.Once it is lost, it is impossible to regain.This priceless commodity is time! 
Time is a precious asset, especially for those living at the end of the age striving to qualify to rule with Jesus Christ.Time is a measure of eternity and a limited period during which an action or process takes place
God created time but does not live in it.Genesis 1:4 (KJV) And God saw the light, that it was good: and God divided the light from the darkness.
The seasons, years, days, hours, seconds were created by God and Scientists often refer to the Universe as a big clock wound up by a creator in such a precise manner it impeccably runs without any clashes.
Time has a beginning and end and is given to define life and afford choosing living purposefully.Psalms 39:4 (KJV) LORD, make me to know mine end, and the measure of my days, what it is; that I may know how frail I am.
Reedeming is compensating for some fault or defect Synonym: redeemingExample: the redeeming feature of the plan is its simplicityhis saving grace was his sense of humor
Ephesians 5:15-16 (KJV) See then that ye walk circumspectly, not as fools, but as wise,Redeeming the time, because the days are evil.
"Re" means again and "deem" means to own hence a "redeeming" entails a making up of whats lost,a paying of a debt we owe ourselves and a redesigning of our days to create value of life.
To the world, the phrase "redeeming the time" could mean the following,driving 140km/hr in a 120km/hr zoneskipping breakfast,cosmetic surgery,turning one's gray hair to brown to recapture a youthful look,sleeping 14 hours straight to recover from a lost weekend.
To us children children of the Kingdom,it has an entirely different meaning—with significant consequences.
Imagine how we often have shied from facing personal challenges,put off overcoming,at times wasted time in frivolous pursuits thereby neglecting our relationship with God or...took lightly our calling as His elect,relegating it to less than top priority?
We often have in futility invested in second rate lackadaisical relationships,celebrated in tomfoolery and pedestrian second rated achievements and professions for so long even our bars have so lowered we wallow comfortably in incompleteness when God ordained greatness cry for us to be grabbed.
We need to rescue from loss the time that remains in our life.We can only redeem our tomorrow by unflichingly looking into the bull's eye,tenaciously and unrelentingly work on changing the trajectory to destiny for yesterday is gone! 
The Days Are Evil
 "Evil" in the Greek means "hurtful evil in effect, calamitous, diseased, derelict and vicious." We are living in the last days, a time when building holy, righteous character is becoming ever more difficult and the above adjectives clearly describe the everyday grind we face. Many paths of wrongdoing and wrong thinking can cause us to lose focus on God's way of life,evil can consume us!
Failing to Number Our Days
Human beings tend to live for the now never thinking of what we are soon to become and moreso where.Psalms 90:10, 12 (KJV) The days of our years are threescore years and ten; and if by reason of strength they be fourscore years, yet is their strength labour and sorrow; for it is soon cut off, and we fly away.So teach us to number our days, that we may apply our hearts unto wisdom.We are only temporary on this earth 🌎, everything else is.Job 14:1-2, 5, 10, 12 (KJV) Man that is born of a woman is of few days, and full of trouble.He cometh forth like a flower, and is cut down: he fleeth also as a shadow, and continueth not.Seeing his days are determined, the number of his months are with thee, thou hast appointed his bounds that he cannot pass;But man dieth, and wasteth away: yea, man giveth up the ghost, and where is he?So man lieth down, and riseth not: till the heavens be no more, they shall not awake, nor be raised out of their sleep.
Procrastination
Human nature loves to procrastinate...putting things off for later that can be done now is the chiefest thief of time.Time can be abused,squandered,lost,devalued in so much if we don't give it with discretion,people will abuse ours and help us waste it.Breaking bad habits, facing difficult decisions, changing poor study habits, praying for others, putting God's Work first in life,starting that business,hitting the gym and others are often pushed for later decisions that now can comfortably accommodate.Most us delay life-changing decisions, settling for anxiety, unfulfilled goals, frustrations and lack of accomplishment.
Procrastination causes us to inhibit creativity and postpone potential accomplishments that would lead to spiritual growthActually,the value of our lives can be measured by where and who we spend it with 
Darkness
Spiritual blindness has led many into hurtful pursuits and paths.Revelation 3:17 (KJV) Because thou sayest, I am rich, and increased with goods, and have need of nothing; and knowest not that thou art wretched, and miserable, and poor, and blind, and naked.The pursuit of physical wealth, status, worldliness and position can be very blinding and dangerous that it ends in tears,regret and loss of God's predestined paths for believers.
A simple one-eyed analysis of the lives of especially one time highly esteemed,very prominent church folk who started well but have ended up looking like church mafia or pulpit bandits attests.Folk have drunkenly stumbled along,tripping over various forms of mind-wasting entertainment, human-based "morality" and selfish, competitive pursuits.2 Timothy 3:5, 7 (KJV) Having a form of godliness, but denying the power thereof: from such turn away.Ever learning, and never able to come to the knowledge of the truth.
This age is characterized by confused,wandering people who unable to settle down,incapable of wholly and faithfully loving,loyal less folk who grope in the darkness, without light.Matthew 24:12-13 (KJV) And because iniquity shall abound, the love of many shall wax cold.But he that shall endure unto the end, the same shall be saved.2 Timothy 3:1-4 (KJV) This know also, that in the last days perilous times shall come.For men shall be lovers of their own selves, covetous, boasters, proud, blasphemers, disobedient to parents, unthankful, unholy,Without natural affection, trucebreakers, false accusers, incontinent, fierce, despisers of those that are good,Traitors, heady, highminded, lovers of pleasures more than lovers of God;
WHAT THEN IS THE HOPE OF OUR FAITH
Time gives us time to change relationships and revalue it.This might entail dropping other choices and folks
Whatever happened from the past seperates us from the present and future thus "USED TO" change to "NOT ANYMORE. "
One cannot be a failure for life,bossy for life,ill for life,a lover for life,a divorcee for life and unhappy for life.Nothing is permanent,time changes everything.Ecclesiastes 8:6 (KJV) Because to every purpose there is time and judgment, therefore the misery of man is great upon him.
We can't create,stop or delay time so we better manage,invest,convert time so we make the most out of it.1 Thessalonians 1:3 (KJV) Remembering without ceasing your work of faith, and labour of love, and patience of hope in our Lord Jesus Christ, in the sight of God and our Father;"Wherefore,AWAKE you that sleep,and ARISE from the dead, and Christ shall give you LIGHT.See then that you WALK CIRCUMSPECTLY, not as fools, but as WISE, redeeming the time, because the days are evil. Wherefore be you not unwise, but understanding what the will of the Lord is" Ephesians 5:14-17.
Time Well Spent 
Is your time wisely spent or you spend too many hours watching television,browsing the Internet? Are the programs you watch educational or edifying? Do you get more sleep than you need—or not enough sleep, with too much to do and seemingly not enough time to do it?Learn to examine,budget your time and manage it well.
▪️Myles Munroe once said that the book a man is reading currently shows you where he is headed in life.All successful books are ardent readers,Bill Gates reads 50 a year,Warren Buffet does and the Bereans in the Bible were commented for studying fervently.
Acts 17:11 (KJV) These were more noble than those in Thessalonica, in that they received the word with all readiness of mind, and searched the scriptures daily, whether those things were so.2 Timothy 2:15 (KJV) Study to shew thyself approved unto God, a workman that needeth not to be ashamed, rightly dividing the word of truth.
Read a book, take a walk, visit a museum or simply spend time fellowshipping.Take time to listen to the experiences, blessings, trials and triumphs experienced by fellow brethren.Choose to use your time wisely.This will prevent having to "buy it back" later.
Awake
"Awake" means "to waken", collect our faculties, rouse from sleep or sitting or lying down, from obscurity, inactivity or ruins."Once awakened, we must actively seek to fulfill our spiritual vocation.
Consciousness and Eagerness
We ought to realize the need for SUSTAINED URGENCY in propelling us forward...to buy back time that should have been spent preparing for the kingdom of God [vs. 19]Walk on Illuminated Paths: When we become awakened and zealous, Christ promises to give us lightEphesians 5:14 (KJV) Wherefore he saith, Awake thou that sleepest, and arise from the dead, and Christ shall give thee light.Mercy and truth work together to give us an advantage in the use of our time. 
John 8:32 (KJV) And ye shall know the truth, and the truth shall make you free.They afford us extra time in an atmosphere of peace, and enable us to have favor with our Creator and our fellow man.
Proverbs 3:1-4 (KJV) My son, forget not my law; but let thine heart keep my commandments:For length of days, and long life, and peace, shall they add to thee.Let not mercy and truth forsake thee: bind them about thy neck; write them upon the table of thine heart:So shalt thou find favour and good understanding in the sight of God and man.
Desire and Focus
Jesus Christ said, "My meat is to do the will of Him that sent Me, and to finish His work" (John 4:34). Do we have this same desire and focus? If so, our time, effort and energy will bring great blessing, benefit and reward.
Habits
Spiritual darkness, blindness, evil, deceit, perilous times, procrastination and our own sense of invincibility often deceive and ensnare us into wasting time.We must change our habits! We never must faint in redeeming the time that remains in our lives and the time remaining in this age.2 Corinthians 4:16 (KJV) For which cause we faint not; but though our outward man perish, yet the inward man is renewed day by day.
According to the late great Myles Munroe, there are 10 ways to redeem the time
1.Document any of your plans down
2.Establish Priorities based on the document
3.Pursue your passions and go for them.NOT EVERY invitation is a blessing.The Devil is good at distracting us and the enemy of "right" is "good."
4.Protect your plans and priorities from other people's interests.DON'T prioritize other people's ideas over yours.
5.Identify what your value is
6.Make decisionsbased on your destiny
7.Inventory your associations(who is wasting or benefiting your time)
8.Review your investments (hours spent watching TV,reading useless novels etc)
9.Do not try to please everyone.(Half the folk who laugh with you,donot even like you and they will help you do nothing with your time then go away do something with theirs)
10.Forget the past.Pursue and design the future.(Folk you meet are either blessings or lessons)
John 7:6-8 (KJV) Then Jesus said unto them, My time is not yet come: but your time is alway ready.
The world cannot hate you; but me it hateth, because I testify of it, that the works thereof are evil.
Go ye up unto this feast: I go not up yet unto this feast; for my time is not yet full come.
Jesus had a sense of the right time 
If you know God's will upon your life and have documented the vision it helps control how you pace your life
Some things some folks want you do now you are not supposed to do as yet
Content created and supplied by: WellingtonTSendekai (via Opera News )