It was a normal Saturday morning,I was getting ready for work so my kids were actually going to visit their father since I was going to be home late.So I was actually used to staying alone but one thing concerned me that my kids would sometimes say they hear weird noises outside,but they don't see anyone as if nothing happened.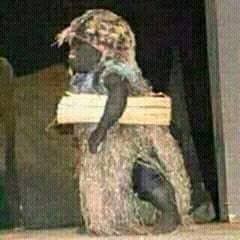 Recently I also told my friend on what we encounter these recent months and it is getting worse.Sometimes it would be like someone is watching us but the is no one.No one can stand sitting on the lounge for long since the is this strong negative energy.It was time to do something about it but I never payed much attention.I got back from work and it was late on afternoon about 6pm.I then see this weird statue in front of the door.No matter what it was not a decoration statue!
Then I noticed that my whole yard had some drops of water even my house windows but on that day it was sunny the was never a rain.I decided not to touch this thing instead,I never slept in the house since I was worried.I then went to the traditional healer to find answers only to find out that one of my colleagues is bewitching me and I did the right thing by not going inside the house since I was going to die that day.What do you think I must do about this situation?Leave a comment down below.
Content created and supplied by: THEFEED (via Opera News )