What we learn from this story or this report that has been made by the Zimeye news is that, the world knows the power of woman. You know these big people that they love cheating their wives with smaller girls.
They love to have extra marital affairs, but don't end well sometimes. If it is true that this slayqueen that is implicated in the death of this particular man, Munatsi, or if she has got to something to do with it, then we know it was a political setup as always.
It is dangerous to play that way on either politically, the slayqueen and the victim. We are seeing the police on investigation looking at all angles but in the investigation it implicates this particular beautiful lady, of which according to me she might be an escape goat. This particular girl see on the picture, might take a fall for some people, we know it is how it is done in Zimbabwe.
It is very easy for ladies to make men fall. It is called the power of a woman, women can build men, women can destroy men. It doesn't matter who the men is, be it a man of God, politicians, business people, or whosoever you are, they have got that to power to build a man, or to destroy him. They've got that power to destroy churches and to build them, they've got that power to destroy businesses, or build them. This is why there is an English that says, "behind every successful man is a powerful woman.
Women have got power to lead you to destiny, women have got power to destroy your destiny. With women you can reach your destiny, or you can destroy it, with the woman you can achieve anything that you want in life, or you can go nowhere. So it is up to you on how you make use of women that are in your life, they can be dangerous, or they can be for good use. That is why even in the Bible, there are only only 2 things that the Bible would a refer to as a symbolic to the devil or angels. Sometimes you see a woman representing the devil and sometimes you see a snake representing, the reason why women and snakes are put together, its because they are very good to look at, they are very attractive but they are very dangerous to play with.
You can make an angel or the devil out of a woman. The venom of a snake is used to suppress the bacterias on the ground, but if you play with it, the same venom can kill you. So we should be careful with women, if you play with her, she will destroy you, but if you know why she is in your life, you can achieve a lot through her. Her wisdom become a building block that will carry you to your destiny. So it is very unfortunate that this man is now underground, this particular young lady that is implicated for it, but it's just speculations, and unverified allegations. Nothing has been verified or tangible evidence behind it, she is just a suspect. She is really can easily organize the demise of a man through that beauty.
So you can just read the report below and see why she is implicated? Why the police are involving her in such a tragedy? It would be very unfortunate if she is just implicated because she had a relationship of some sort with this deceased or maybe the man died a few minutes after she has been with him, in that case she is just a suspect not a real pepetrator. You mat realize that the men died by his own things, or through the plot of his own enemies. I hope the lady implicated she also has learned something that anything can go wrong with anybody. Also that it is easy to be implicated in such intimacy. Men must also learn something from this, just read below
https://www.zimeye.net/2021/11/30/slay-queen-implicated-in-manatsis-mysterious-death/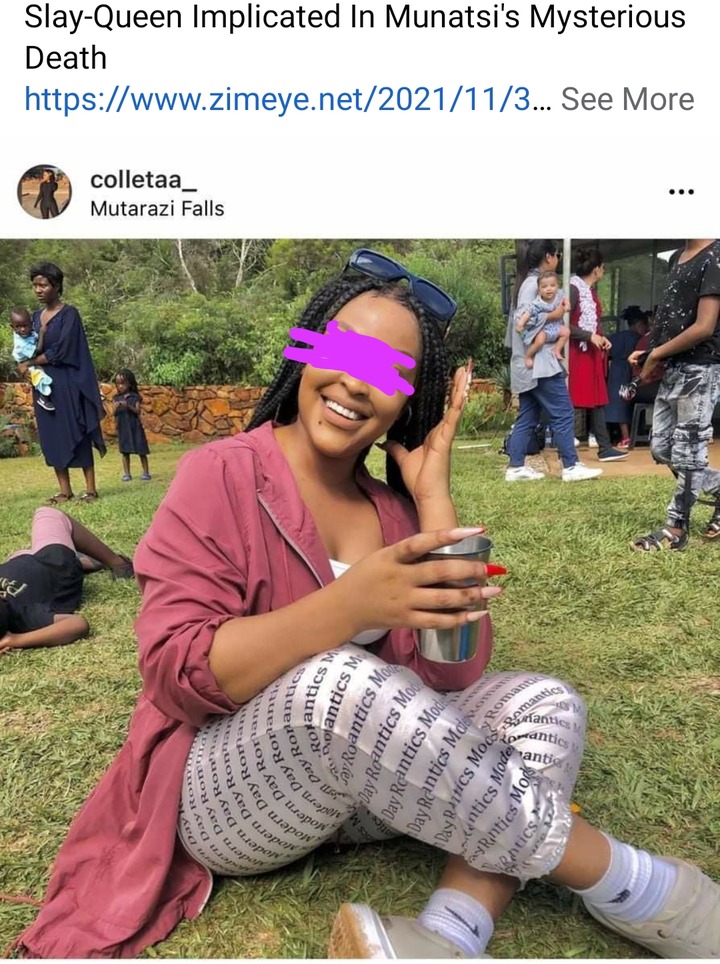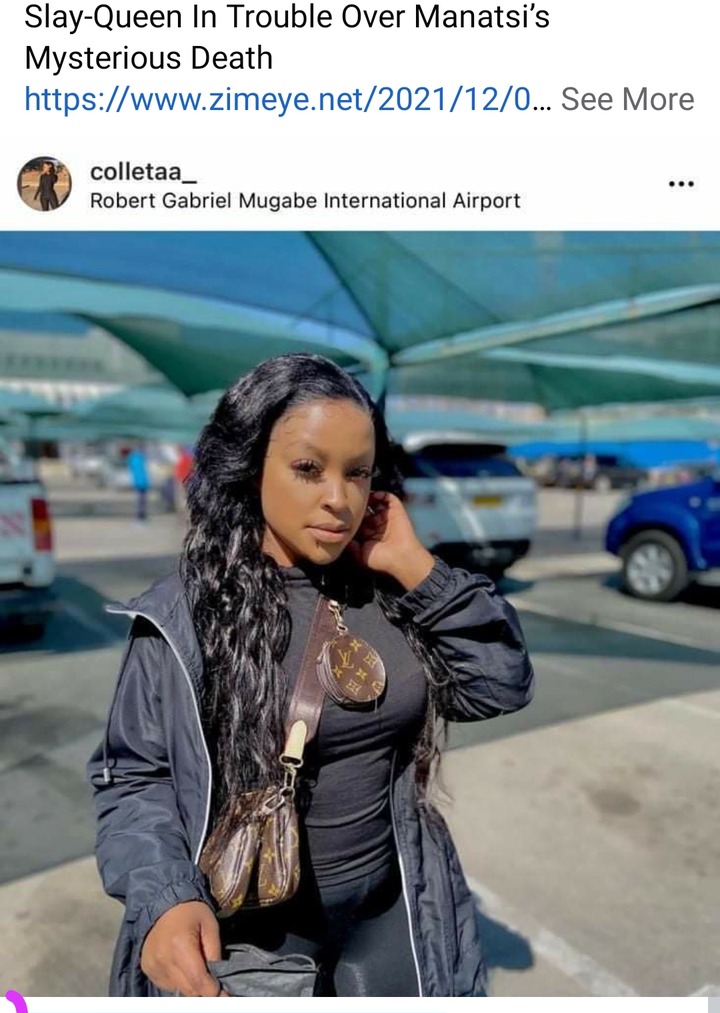 By A Correspondent-Police have lift the lid on the circumstances surrounding the death of Zimbabwe Investment and Development Agency (ZIDA), chief executive officer Douglas Munatsi, saying an explosion was heard before an inferno gutted the prominent banker's Harare flat while he was still inside.
Munatsi died early Monday morning after failing to escape from his seven-roomed flat comprising three bedrooms, dining room, lounge, kitchen, and Gym.
Police forensic team is currently working with the Fire brigade to ascertain cause of explosion.
Police say they are also on the hunt for a guest who was recorded as the last person to visit the now deceased, a few hours before the fire.
She was recorded at the entrance as Colleta NFPK. It is not clear why she did not provide her full name.
The prominent banker is said to have cried for help when a fire broke out in his flat around 2:50AM on Monday.
"On 29 November 2021 at around 0250hours, the informant (Charles Gardner) heard some explosion-like noise and he woke up and went to the balcony to check where the noise was coming from, reads a police memo.
"The informant saw smoke coming from the now deceased's flat which is directly below his flat and a voice that was shouting 'Fire please help'. Informant then phoned fire brigade at the same time running down stairs to the ground floor. A report was made at ZRP Harare Central."
Police observed that Munatsi's main bedroom was extensively damaged by fire to the extent that all windows and doors were broken, all the furniture in the bedroom were extensively burnt that only steel frames for the bed and built in cupboards were observed.
"The remains of the deceased was found in a sitting position just beside the tub in the main bedroom with some burns on the hands and legs, he was putting on a red T shirt and a black pair of shorts which were not burnt to suggest that the deceased could have been burnt by the heat of the fire and not direct flames," police said.
Gardner is said to have told the police that he heard sound as if something had exploded at about 02:50AM and woke up to check and discovered that there was smoke coming from the now deceased's flat.
He also mentioned that he heard the now deceased calling for help. Same mentioned that he phoned Fire Brigade at about 2:53AM at the same time telling the now deceased to come out. "The informant stated that he then ran down stairs on foot since there was no electricity on the flat since about 1445 hours on Saturday 27 November 2021. He further narrated that Fire Brigade arrived at the scene at about 0311 hours but had some challenges in accessing the flat since it was on the 9th floor. The informant mentioned that Fire brigade only finished extinguishing the fire at about 0530 hours," police said.
Also interviewed was Shupai Zifunge aged 47 years NR 04-070519 B 04 of Block 7, C10 Shawasha Flats, Mbare, Harare who is employed by Securico Security Company as a security guard based at Northfields Flats."
"Same indicated that he last saw the now deceased on 28 November 2021 at about 1820 hours when he (deceased) told him that he was expecting a guest at the flat and he asked the informant to escort the guest to his flat when she arrived. The guard further mentioned that the said guest who was recorded on the security check point book as Coleta NFPK arrived at about 1905 and he escorted her to the now deceased's flat. The said guest left the flat at about 2118 hours on foot. Shupai Zifunge further stated that on 29 November 2021 around 0300 hours he heard some explosion and he went out of the guardroom and saw the informant running downstairs telling him that there was a fire in flat number C9.
https://www.zimeye.net/2021/11/30/slay-queen-implicated-in-manatsis-mysterious-death/
Thank you, please share your thoughts on this article on the platform below
Content created and supplied by: TheWise1 (via Opera News )
Opera News is a free to use platform and the views and opinions expressed herein are solely those of the author and do not represent, reflect or express the views of Opera News. Any/all written content and images displayed are provided by the blogger/author, appear herein as submitted by the blogger/author and are unedited by Opera News. Opera News does not consent to nor does it condone the posting of any content that violates the rights (including the copyrights) of any third party, nor content that may malign, inter alia, any religion, ethnic group, organization, gender, company, or individual. Opera News furthermore does not condone the use of our platform for the purposes encouraging/endorsing hate speech, violation of human rights and/or utterances of a defamatory nature. If the content contained herein violates any of your rights, including those of copyright, and/or violates any the above mentioned factors, you are requested to immediately notify us using via the following email address operanews-external(at)opera.com and/or report the article using the available reporting functionality built into our Platform See More