In exchange for giving up my womb so that he might become wealthy, he left me and married my best friend. A woman who is heartbroken opens out.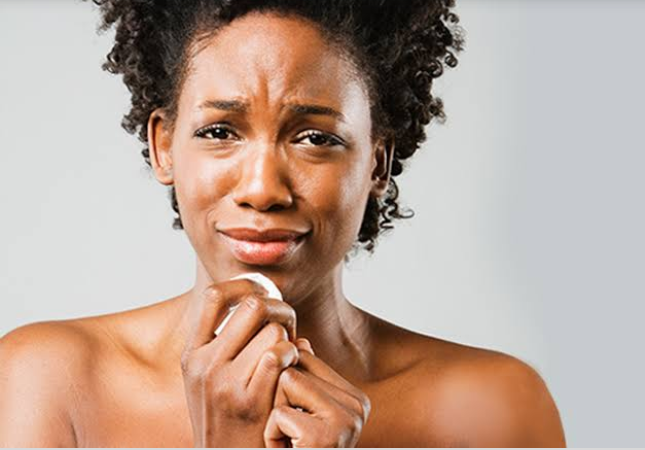 A 23-year-old Nigerian woman has described how she made a significant sacrifice for her fiancé just to have him leave her after a short time.
The young lady shared her tale on the internet, explaining how she unwittingly sacrificed her womb for him in order for him to become rich, but that he ended up dumping her and marrying her friend instead.
"Life has never been kind to me, and love has given me nothing except heartache and grief. I'm now a 23-year-old woman from Delta state, Nigeria. I was born into a polygamous family, where my father didn't care for my mother, myself, or my other three brothers and sisters. My mother was the one who instructed us, and since her financial situation was precarious, she had to rely on us. I was only able to complete high school and was required to acquire a trade.
I met a man just after I graduated from high school, and we immediately began dating. He was the one who took away my virginity; I adore him, and he adored me in return; we dated for two years until he went overseas, at which point our contact began to deteriorate, and eventually he stopped calling me altogether.
Before meeting this man who placed me in the worst situation I'm in now, I was single for a long period of time. He was my senior in high school, and we were sort of friends. I thought he was beautiful and had a wonderful personality, and I had no idea he was playing a prank on me until later.
Consequently, when my partner stopped contacting me, another man stepped in and began calling me, expressing concern, and giving me money on weekends, among other things.
We began dating gradually, and it was then that I realized he was involved in fraud. He persuaded me that online fraud was the only way for Africans to reclaim all that white people had stolen from them.
As our relationship progressed, he was always moaning that he wasn't earning the money he desired, and I was the one who calmed him down by reminding him that his time will come.
In fact, I was praying for him because I had fallen madly in love with him, and he was professing to love me in the same manner that I had.
When escorting one of his successful "business" buddies to a shrine and after the herbalist had done with him, he informed him that his girlfriend (who happened to be "me") had the key to unlocking his success in his fraudulent company.
At first, I was taken aback and perplexed, wondering how I could possibly sit on my boyfriend's success since, if he grew wealthy, I would also benefit from it.
I assured him that I had nothing to do with his failure to develop and attempted to persuade him that I was unable to do so.
But he was not persuaded, and he insisted that if I was really committed to his advancement, which in turn meant our advancement, I should accompany him to the temple.
The fact that I had never been to a shrine before was because my mother raised us in a godly manner, and I had been lying to her about my boyfriend being a blogger, but she had a suspicious feeling about him and had warned me to be cautious of him, but because I was bringing financial support from him, it helped to calm her down a little.
The next four days were spent debating what my partner had said, and he was continually reminding me how it would alter our future since money would never be an issue in our relationship.
He also said that if I had enough money, my younger siblings could attend school at whatever level they desired, and that I could attend as well, or that I could start a large company if I so desired. Any of these will do.
When I informed him in the evening on the fifth day that I was ready, he erupted in joy and showered me with compliments, assuring me that if all went well, we would be married in less than six months.
After breakfast the next morning, we traveled in a rented cab to a hamlet in Delta, where we stopped by the river and boarded a boat to another community.
We arrived at the village and proceeded through some bush trails till I came across a spot that was adorned with various traditional items, at which time he pointed out that it was the correct location.
We walked in with our backs to the door and were greeted by a shrunken middle-aged guy with decaying teeth who was chewing a nasty cola.
Following my greeting, I was surprised to hear him say my name and go on to describe my family's history, which I found surprising.
He then had a private discussion with my partner, after which he asked me whether I was prepared to make the ultimate sacrifice.
In my fear, I inquired about the sacrifice; my boyfriend assured me that it was nothing to be concerned about and that it would do no harm; by this time, the herbalist had already arrived with a large basin of water. He placed a small calabash packed with plants and other items in the center of the basin and filled it with water, then added a yellow powder to the water to make it more vibrant.
He instructed me to undress, and I was perplexed, but my partner pleaded with me to just comply, saying it wouldn't take long.
Then he ordered me to stand in the basin full of water and beneath the calabash while I was blindfolded, which I dutifully did.
When I realized this, it seemed like a weight had been lifted from my shoulders, and I collapsed, only to be immediately revived.
Our journey ended with us returning home, where I was ill for two days before gradually becoming better again with him by my side, displaying all of his phony affection for me.
The next week, I was at home when I received an alert from him stating that he had received $500,000. I was befuddled and didn't know where to begin since our house rent was already due and our landlord had ordered my mother to pay or pack up and go.
When I contacted him, he urged me to use the money to get a recharge card since we were now wealthy.
I immediately transferred the necessary funds to my mother in order to pay the rent, and when my mother inquired as to where I obtained the funds for the rent, I said that I had informed my boyfriend of the situation.
I quickly zoomed in to see my lover, who embraced me and began to express his gratitude for what I had done for him.
He informed us that one of his maga had just given him ten thousand dollars and requested that we go have a good time.
From there, we looked for a new place for him to live, which he eventually found and began purchasing home furnishings. I asked him why we hadn't put any of the money into something before it ran out, but he just shrugged and claimed more money was on the way.
Two weeks later, it was my birthday, and he arranged a party for me, during which he presented me with an iPhone, designer clothing and shoes, as well as an additional $500,000. I couldn't believe it was a dream, and I couldn't believe it was real.
The next month, he informed me that his'maga' had given him the amount of 75 million dollars and invited me to see him.
Then he asked me what sort of company I wanted to start, and I replied let's marry first, but he insisted on setting me up first, so I told him and he established a supermarket for me that devoured nearly 8 million dollars in the process.
On my part, I moved my family and began educating my small child in school. Even my absentee father attempted to reach out to me, but I chose to reject his pleas for help. Na.
I began my company and took it seriously, and I was constantly there, but my boyfriend was busy at home and just came in on occasion to see me at the store.
Two months later, I began to bother him about getting married again, and he informed me that he was planning to do so. The uproar was too much for him, so one day he came to my shop, knelt down, and proposed to me while customers were present, and he also surprised me with the keys to a Toyota Camry as a gift.
I was overjoyed, and I was now completely sure that he was about to propose to me.
Several weeks after that, a friend of mine informed me that it seemed as if my fiancé was having an affair with another woman I knew. I didn't believe her since my fiancé was a responsible man, at the very least, he was a homely person who never concealed his phone from me.
Soon after, he began acting strangely; he would leave home as soon as I left for my store and return just as I was ready to return home; he was no longer seeing me as often as he used to; and he was making many excuses.
I was furious when I discovered him with the woman at a hotel and couldn't keep my anger in check. I argued with the lady for coming to reap where she had not sown.
The next day, my fiancé refused to return home with me. He disconnected his phone line, and when he returned online, he informed me that he was no longer interested in me. I was furious, and I asked him what I had done for him after all. He responded by saying that he had also benefited from the money he had earned.
It took me months to figure out where he was until a buddy of his discreetly informed me that he had gone to Ghana with the same woman that I had argued with and that he had even performed a marriage introduction for her.
I was devastated, and I attempted to contact him via his social media accounts, but he refused to respond.
I created a second Facebook profile and warned him that if he didn't change his choice, I would go to the herbalist and reverse his fortune. He responded by saying that I was free to do anything I wanted.
After our previous visit to the herbalist's shrine two years ago, I went to the shrine in a fit of rage. My fiancé had done all he could to ruin my life, and I asked that the herbalist reverse his fortune and make him extremely poor. After some discussion, the herbalist recognized me, and I told him everything my fiancé had done.
Exploiting his hands to indicate that the sacrifice could not be reversed, he disclosed to me that it was my womb that had been sacrificed in order for him to become rich, and as a result, I would be barren for the rest of my life, and he would be using it to get even more money.
I collapsed and had to be rushed back to the hospital before I was allowed to return home.
Following my recovery from my illness, I wrote him a message detailing what the herbalist had told me, and he responded by saying that I had benefited from it, but that he was sorry that he couldn't marry me due to the fact that he knew I wouldn't be able to have children.
Now I'm completely despondent; I've been out of business for more than two months, and life has become a bitter experience for me.
Just a few weeks ago, they tied the knot and uploaded pictures of their wedding on the internet, which drove me to tears because I couldn't believe that a day like this would arrive when a woman who knew nothing about me would be rewarded for the gift of my womb.
Life has lost its appeal for me, and I'm on the brink of giving up.
SOURCE:
https://www.ghlinks.com.gh/after-sacrificing-my-womb-for-him-to-be-rich-he-dumped-me-and-married-my-friend-heartbroken-lady-shares/
Content created and supplied by: Best_deals (via Opera News )
Opera News is a free to use platform and the views and opinions expressed herein are solely those of the author and do not represent, reflect or express the views of Opera News. Any/all written content and images displayed are provided by the blogger/author, appear herein as submitted by the blogger/author and are unedited by Opera News. Opera News does not consent to nor does it condone the posting of any content that violates the rights (including the copyrights) of any third party, nor content that may malign, inter alia, any religion, ethnic group, organization, gender, company, or individual. Opera News furthermore does not condone the use of our platform for the purposes encouraging/endorsing hate speech, violation of human rights and/or utterances of a defamatory nature. If the content contained herein violates any of your rights, including those of copyright, and/or violates any the above mentioned factors, you are requested to immediately notify us using via the following email address operanews-external(at)opera.com and/or report the article using the available reporting functionality built into our Platform See More