Meet the lady with the worst physical conditions and yet found true love.
Is it possible to love someone unconditionally and yet marry them in their worst physical form? These questions can only be fully answered when you face them head on, not as questions, but as real-life situations, and this will demonstrate how deeply you mean it when you say you love someone. But meet Carmen, a 29-year-old Brazilian woman who, despite having one of the worst physical conditions imaginable, has found true love.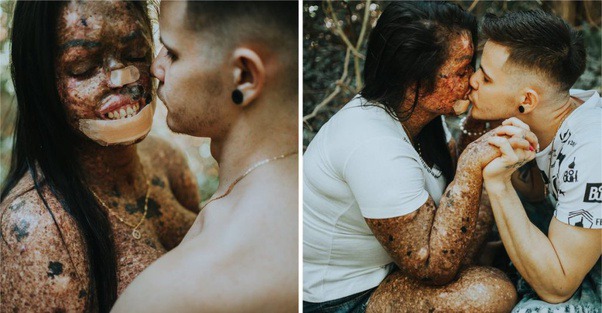 Carmen is a 29-year-old Brazilian woman who has xeroderma pigmentosum, a genetic condition. Anyone with this condition should avoid being exposed to the sun or ultraviolet light. They can get serious sunburn and freckles if they are exposed to UV light for even a few minutes in the sun. Carmen has lost one lip, one ear, and half of her nose due to nose cancer. She's also deafeningly deafeningly deafeningly deaf Doctors attempted to reconstruct it by surgery, but were unsuccessful.
Carmen has had approximately 120 repair surgeries as a result of all of this. Because of her circumstances, she was unable to attend school and had to study at home. Getting a work is a different story. However, despite her disabilities and pain, Edmilson continued to love and share Carmen's life.
Her story went viral after she started a fundraiser to help finance her dream wedding with her fiancé, as well as renovate her home. People responded with kindness and money to help them fund their wedding, which took place on July 31, 2020. She now has a beautiful home as well. Since then, she's been documenting her everyday life with her husband on Instagram, where she has over 247k followers.
Content created and supplied by: [email protected] (via Opera News )