We all heard the phrase "nothing is forever" ,while this concept may apply to memories, it doesn't apply to life span according to science.
Aging is the course of death in species. The older a life form gets the lesser its ability to recreate its body cells and thus resulting in the body slowly wearing off until It is no longer able to sustain itself.
However, for this species of jellyfish known as the Turritopsis curricula, the cycle of life can be maintained forever because this type of jellyfish can revert to being a tiny blob of tissue, which then regrows from scratch and develop into an adult,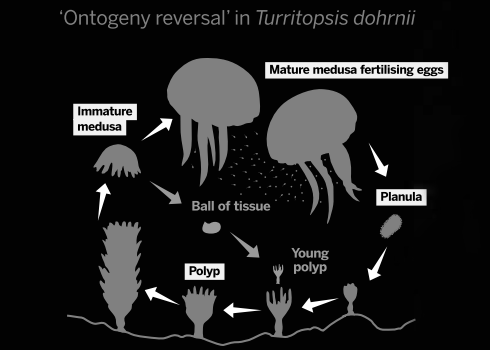 once adulthood is reached the fish reverts to its initial tissue form and thus giving it the ability to live forever since the fish can undergo this process for an infinite number of times.This jellyfish is the first immortal creature ever discovered.
Can humans be immortal too:
According to scientists' prediction, the information about how the Turritopsis curricula, sustain life indefinitely can be used in future years to modify human microbiology to extend the life span of humans or even make them immortal.
following sufficient medical advancements. While, as shown with creatures such as hydra and planarian worms, it is indeed possible for a creature to be biologically immortal by their ability to replace aged or damaged tissues and cells, it is not known if it will be possible for humans shortly.
Content created and supplied by: real-Koketso (via Opera News )