MODERN DAY EVILS IN THE NAME OF FASHION
A lot of people are getting away with a lot of evil, including people's wives and people's husbands. They would tell you that, "do not not judge me! I think they're taking it from the book of Matthew chapter 7, where Jesus said "do not judge, so that you may not be judged, for with this same measure that you judge others, you shall also be judged! But I think they're interpreting this very wrong. They are just taking this verse in order to gratify their own lustful ways.
They are misusing this verse in order to follow their own abominable lifestyles. You find a person drinking alcohol, leaving his family with no food, and if you try to correct that person, they'll vindicate themselves through this word, "do not judge".
There is a different between correcting a person or trying to caution somebody about the consequences of something that he or she is doing. Sin judgment belongs to God, and by the way if we don't the judge ourselves who would judge us. Our conscious is given to us to judge, but if our conscience fails, someone can do that for you. If someone also fails, God can judge you.
So because we are God like, we should judge each other. When you are judged by others, God's judgment becomes linear to you. It will be lenient because you're a judge already. Actually it's not the judgment per say, but it's trying to make you see what you are doing, just a trying to conciountise your conscience.
Just to show you that, what you are doing is not right, but even if a person takes it as a judgment, we tend to leave that person alone. Judging the character of a person, is not judging sins, sin judgment is left to God alone because no one is without. Our characters can be judged, there is nothing wrong with a telling you that, what you are doing is not right.
There's nothing wrong with showing you that, what are you doing, or the path that you are working is not the right path. Actually whosoever ever is doing that to you, that person loves you. Unlike those that can leave you doing what you're doing. Those that can leave you falling into a pit, and they say nothing. Those that wait for you to fall and laugh.
At least a person who tells you that, but "I told you so" is better than a person who will laugh at you when you have fallen. He or she is better than someone who is going to gossip about you with his or her friends, the day that you got it all wrong.
So my point is leave people judge you, if they are judging you for wrong reasons, then you have got a reason to defend yourself. I also know that even when a person defends him/herself in certain things but the person within his or her heart knows that whatsoever people are saying, is true.
The inside person knows, this is wrong. My point is, your own conscience by itself can be able to convince you that, the what they are saying is right, they got a point. So allow us to tell you the truth, that is not being preached by pastors today, read below;
https://www.facebook.com/groups/1493912250726405/permalink/4414596725324595/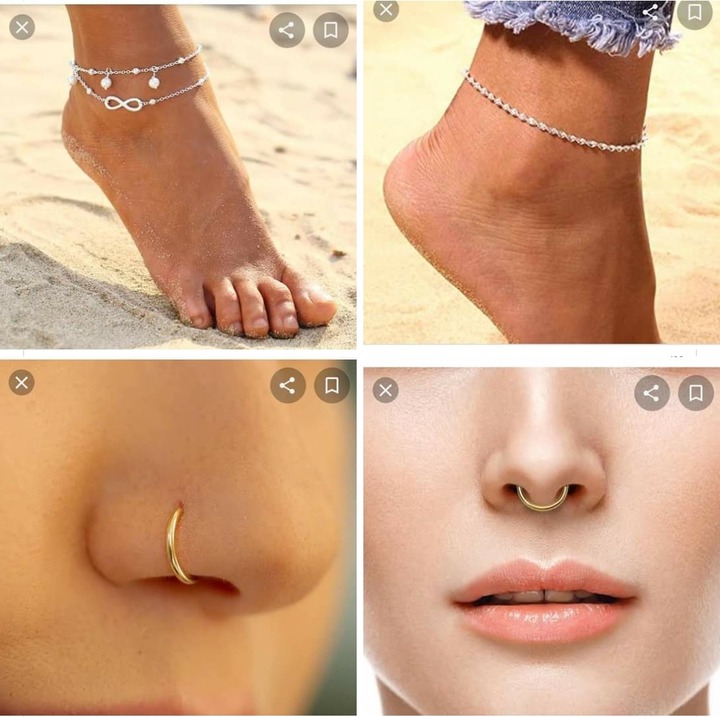 ✍️Most people don't realize that one of the ways the devil is using to capture disciples for himself is the area of "fashion". Both man and woman are so obsessed with fashion today to an extent that they have lost sense of discretion.
✍️Some people follow these fashion trends without digging their history or connotations. This is very unfortunate.
✍️It is sad that this worldly fashion is enticing many christian women today. Some do wear them to worship places and other gatherings of the saints.
✍️ Just of recent precisely last month, a sister wore that of the nose and came to Sunday worship. I looked at her and didn't say a word to her. During my sermon titled: "Making the Gospel of Christ Attractive", she started feeling guilty of herself as she struggled to cover her nose with a veil. Immediately the closing prayer, she disappeared. I was hoping she will wear it next Sunday but she didn't.
✍️My sisters, there are some fashion that even without someone reprimanding you, the Holy spirit in you should tell you that it is not right for you to fall in love with them.
✍️ For God's sake you are the light of the world (Matthew 5.14-16). You are also a public letter read by everyone (2Corinthians 3.1-3). Do you realize all of these?
✍️ Don't jump into fashion trends. Look at the Ankles (the one on the leg). Do you know its meaning? I'm sure you don't. Now, listen, it means that when a woman wears that on her leg, she is invariably saying to the world that she has a partner but she is available to anyone.
✍️ This ankles are usually won by prostitutes( also known as sex workers). Just imagine you as a christian advertising yourself as as prostitute to world. Is it not very sad indeed?
✍️ Ankles can also be traced back to the time of slavery. The blacks who were captured as slaves were chained both on the neck and on the legs. 
✍️The one of the nose I have not researched much about it however, it doesn't portray decency as a follower of Christ. 
✍️Animals that are stubborn especially pigs are being put with those nose rings to prevent them from destroying people's farms. 
✍️My sister the ones on your ears are they not enough for you? You have extended it to your nose why? Are you a pig?
✍️ Please, my sisters Satan is very crafty. He wants to separate you from God. He is doing this through any and every available means. Be careful!
👉Dress modestly.
👉Dress to the glory of God.
👉Dress as a follower Christ.
👉Dress as a new person.
👉Dress as a representative of Christ.
👉Dress as the one portraying the light.
👉Dress as a Christian.
👉Dress as a responsible christian woman.
1 Thessalonians 5:22 Abstain from every form of evil [withdraw and keep away from it].
Your concern friend and brother,
Ume Stephen
https://www.facebook.com/groups/1493912250726405/permalink/4414596725324595/
Thank you, please share your thoughts on this article on the platform below
Content created and supplied by: TheWise1 (via Opera News )
Opera News is a free to use platform and the views and opinions expressed herein are solely those of the author and do not represent, reflect or express the views of Opera News. Any/all written content and images displayed are provided by the blogger/author, appear herein as submitted by the blogger/author and are unedited by Opera News. Opera News does not consent to nor does it condone the posting of any content that violates the rights (including the copyrights) of any third party, nor content that may malign, inter alia, any religion, ethnic group, organization, gender, company, or individual. Opera News furthermore does not condone the use of our platform for the purposes encouraging/endorsing hate speech, violation of human rights and/or utterances of a defamatory nature. If the content contained herein violates any of your rights, including those of copyright, and/or violates any the above mentioned factors, you are requested to immediately notify us using via the following email address operanews-external(at)opera.com and/or report the article using the available reporting functionality built into our Platform See More