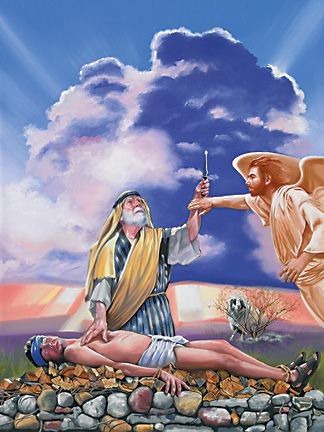 "God I will do anything you call me to do" is a popular heart-felt statement that nearly every Christian has made at some point in their walk. It may have been made during a conference or seminar about global missions. Some will say it when they have spent a weekend in quiet study of the Word and have felt compelled to follow Christ wherever he leads. We sing it Sunday mornings in various forms and talk about it to people we love when we are trying to explain our undying commitment to Christ. The challenge for most of us is just that it's an "undying" commitment.
Meaning we are constantly striving to live up to a commitment that never dies - and yet that may the achilles heal to commitment. As a young preacher preparing for a message from Romans 12, I cam across a statement credited to the 19th Century, American Evangelist D.L. Moody. It read, "The problem with a living sacrifice is that it keeps crawling off the altar." As I read over his words, I had to stop long enough to let it settle. Let me encourage you to do the same.  
In our part of the world, we know very little about "sacrifice" in this sense. In church circles, we associate it with Jesus and his death on the Cross. We speak of our need to "sacrifice" time to study the Bible or give to our churches to continue the work set before us. We talk about what was "sacrificed" to go to school or what someone else "sacrifices" to make a better life for themselves and their loved ones . We talk about the "sacrifice" we made to be on a team or for a certain job. And all of these are good metaphors for the idea of sacrifice, but they really fall flat when we consider the real implications of a sacrifice. In the Scriptures, sacrifice could be a metaphor at times. Sometimes sacrifice was agricultural - meaning crops. Sometimes it was property - land, possessions, etc.. Sometimes it was animal. Whatever the means of sacrifice that was required it could mean many things, but it's picture was still etched into the minds of hearers because of the common practice.
See what was sacrificed - was given up completely. There was no taking it back. I mean I guess you could have, but that was highly frowned upon. If a person had resolved to give something, it was given up completely. It was completely turned over to the LORD and it was used to bring Him glory and to set themselves completely in agreement with Him. When Paul calls for Christians to be a living sacrifice, he was taking a unique approach to the life of person who follows Christ. They were to see themselves as offering their lives to Christ by living their lives for Christ. To allow Christ to examine their sacrifice of self and weigh its overall merit. Their sacrifice was to be approved by Him and Him only. 
When we realize that our bodies are living sacrifices, then we are invited into a relationship with Jesus that allows Him to lead, direct, and even push us in a certain way. Our fears are now His to handle. Our possessions are now His to use. Our gifts and talents are His instruments. Our very livelihood is His to use to His Glory. Thus the danger of a living sacrifice is that I can decide not to stay on the altar. I can actually decide to stop sacrificing myself for Him
Content created and supplied by: S.M-News (via Opera News )