There's a voice that the chosen one hears from the Almighty. Then they commit their lives to preaching the message of God to mankind. The man of God are not given choice to present their will before God. They just have to obey the instructions without questioning His authority. Today I have chosen to look into prophet Hosea's encounter with God as he is commissioned to go and tell Israel to repent or face God's wrath.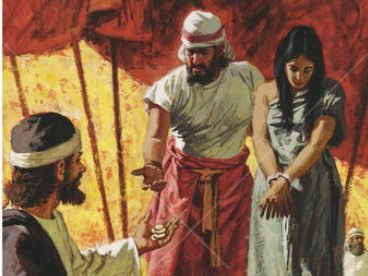 Hosea 1:2
[2]When the Lord first spoke to Israel through Hosea, he said to Hosea, "Go and get married; your wife will be unfaithful, and your children will be just like her. In the same way, my people have left me and become unfaithful."
Looking closely at the start of the chapter; we are greeted by a strange order of God to the chosen one. " Marry a prostitute and have immoral children by her". This is like saying " go and be a laughing stock to your people" I mean this is just not easy to obey. One start thinking deep into repacations of such behavior. But, it's an instruction from God and your obedience is of great importance.
We however think about it at length and come around. After all it's the owner of my life who tells me to do so. The society that will judge me does not matter. Actually, the message is in the act of proposing and fathering the unfaithful children by their immoral mother.
Everything is set up here! Marry a prostitute and the world will judge you. Have unfaithful children, the society will condemn your upbringing. That is where the objective is all hidden. Israel, has forsaken me, says the Lord. They have rushed to serve foreign gods they don't even understand. That alone means God has a laid down statute that people can look into and choose to obey or not.
When the people meet or hear of a man of God, they ask about their background. They want to know of which colour, race, tribe, nationality and the like. They want to Know if they are single or married, divorced or widower. All these are part of the message God is sending to you. Whatever this man of God has gone through in life is a lesson to our lives. Can we live corrected and above sin. The point is to bring a people purified unto the Lord their God.
The man of God may perform miracles and wanders, the main agenda is to bring people to God their creator. The main goal is to bring people from darkness to light. To allow you enough rope to hang is to make sure the gospel has been preached to you from the comfort of your free analysis. You can still choose to repent or not. But the punishment that God called upon us will stand unless we repent.
Imagine marrying a woman that everyone knows about her immoral behaviour and walk with her, hand-in-hand in the streets. Introducing her to small and great alike; "This is my fond wife, with whom my heart is pleased!" Will you reprimand me? Will you stone me to death for remaining a faith husband to a prostitute, who even allows her children to grow in her foot steps. (Forgive me my readers, I am crying from this. I am getting a little emotional, sorry!)
The God who created you; His love endures forever. He will wait for you to make up your heart and choose Him and leave your unfaithfulness. He will send in their various characteristics; the pastors, whose lives may look in all manner of reasoning bad, but be careful. Don't judge yet before you look close enough and re-evaluate your own steps before condemning another. Jesus Christ said throw the first stone if you lived a holy life than her than her till now!
Prophet Hosea is in our midst today. He has been sent with the message of salvation. Are we going to be busy condemning his life style, or embrace his message. I have stated before that, the word of God is said in passing. God will not repeat Himself to us. His word will surely come to pass. Let's give time to go to church and listen to the commissioned men of God. They are carrying a message to save us. I will leave you reading from the prophet Isaiah, the words that can't be altered. They will stand even after the end of time. Come back to God, His love is everlasting.
Isaiah 6:8-11
[8]Then I heard the Lord say, "Whom shall I send? Who will be our messenger?"I answered, "I will go! Send me!"
[9]So he told me to go and give the people this message: "No matter how much you listen, you will not understand. No matter how much you look, you will not know what is happening."
[10]Then he said to me, "Make the minds of these people dull, their ears deaf, and their eyes blind, so that they cannot see or hear or understand. If they did, they might turn to me and be healed."
[11]I asked, "How long will it be like this, Lord?"He answered, "Until the cities are ruined and empty — until the houses are uninhabited — until the land itself is a desolate waste.
Prayer: Lord Jesus Christ, We ask for your grace. Grace enough to change our focus when we hear the message about your love for mankind. Enough grace, to heal our land of this pandemic. We ask for grace to love one another and pray for those who persecute us. In Jesus Christ's name. Amen
Let's embrace the Word of God without persecuting His servants. May God bless you and your family. Your comments are welcome. You may like and share to the glory of God. Hallelujah!
Content created and supplied by: Fovela (via Opera News )
Opera News is a free to use platform and the views and opinions expressed herein are solely those of the author and do not represent, reflect or express the views of Opera News. Any/all written content and images displayed are provided by the blogger/author, appear herein as submitted by the blogger/author and are unedited by Opera News. Opera News does not consent to nor does it condone the posting of any content that violates the rights (including the copyrights) of any third party, nor content that may malign, inter alia, any religion, ethnic group, organization, gender, company, or individual. Opera News furthermore does not condone the use of our platform for the purposes encouraging/endorsing hate speech, violation of human rights and/or utterances of a defamatory nature. If the content contained herein violates any of your rights, including those of copyright, and/or violates any the above mentioned factors, you are requested to immediately notify us using via the following email address operanews-external(at)opera.com and/or report the article using the available reporting functionality built into our Platform See More