Disregard land confiscation and we will eliminate you, EFF's Shivambu tells Ramaphosa.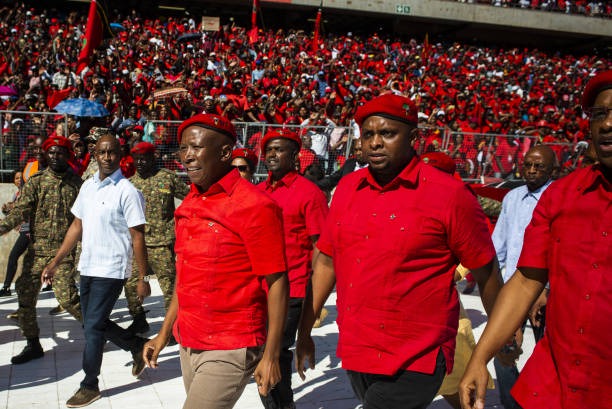 EFF second -in- command Floyd Shivambu, says seizure of land without remuneration, is integral to financial turn of events and the gathering won't withdraw on the issue. 
EFF representative president and MP Floyd Shivambu has cautioned President Cyril Ramaphosa that the Red Berets will eliminate him from office on the off chance that he moves from the ANC's obligation to address the nation's property question. 
Talking during a discussion on Wednesday night on Ramaphosa's State of the Nation Address (Sona) conveyed a week ago, Shivambu said land reallocation was vital to financial turn of events and the EFF would not withdraw on the issue. 
"The ensemble that came here, generally from the broken youth development [and] the results of the young development, for example, Khumbudzo Ntshavheni, [Buti] Manamela, [Ronald] Lamola, and [Fikile] Mbalula – came here to promise the president that he should not be worried about the possibility that that we will eliminate him when he ignores and moves from the land question and keeps on engaging white individuals," Shivambu said. 
"We need to reveal to you Mr president, and you know very well our ability, that in the event that we conclude that you should be eliminated from office, we can eliminate you taking all things together places of force that you possess now since we won't withdraw on the land question." 
Seizure of land without remuneration has been advocated by the EFF under its seven non-debatable columns. The ANC likewise embraced the strategy at its 54th public gathering held in 2017, with Parliament presently set to conclude another land seizure bill by March. 
Shivambu scrutinized Ramaphosa's arrangements, spread out in his Sona, for government to help privately made items. 
He said South Africa required a fruitful industrialisation program that incorporated an appropriate land reallocation plan and a state-possessed bank. 
"Our primary accommodation is that South Africa should not keep on bringing in pointless items and products that can be privately beneficiated and delivered," he said. 
"Allow us to zero in on industrialisation since that is the lone instrument that will achieve genuine monetary turn of events and annihilation destitution, decrease disparity, and ensure that our kin have maintainable positions. Also, at the focal point of that is the reunification of our kin with the land." 
Following two days that saw parties banter Ramaphosa's Sona, the president is required to react to the discussion on Thursday evening in the National Assembly.
Please remember to Like, follow, share and comment.
Source;
https://citizen.co.za/news/south-africa/parliament/2442727/neglect-land-expropriation-and-we-will-remove-you-effs-shivambu-tells-ramaphosa/
Content created and supplied by: Johnbold1473 (via Opera News )