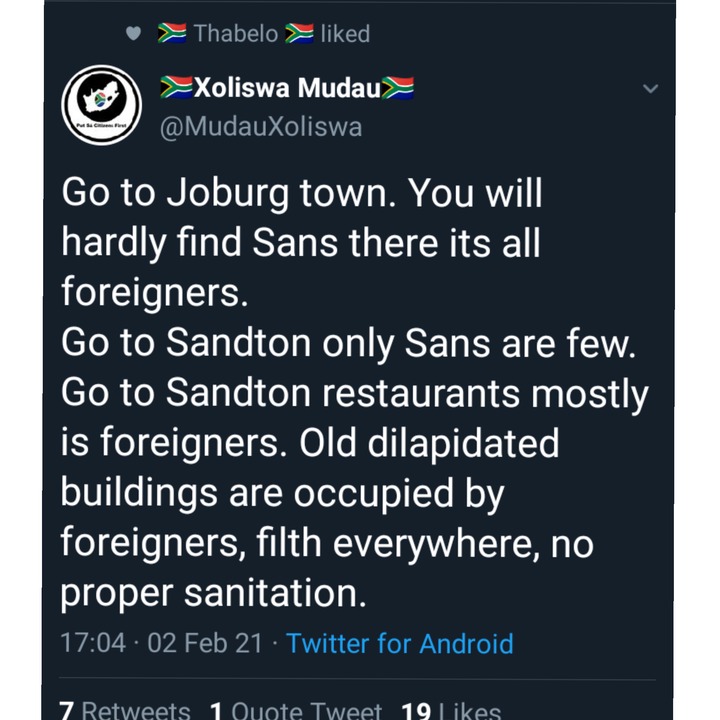 Go to Joburg town. You will hardly find Sans there its all foreigners.
Go to Sandton only Sans are few. Go to Sandton restaurants mostly is foreigners. Old dilapidated buildings are occupied by foreigners, filth everywhere, no proper sanitation.
When they get sick they run to government hospitals occupying most beds, no space for Sans. South Africa has been hijacked by foreigners.
Restaurant are foreign owned, waiters are foreigners. Customers are foreigners. Where are the Sans gone to? They've been pushed to townships.
Just like in the apartheid days when whites where the one's living and dining in Sandton and blacks where in the townships. That's what's happening now with foreigners. Foreigners have taken over our land.
The whole southafrica is hijacked by Foreigner's, thanks to ANC and EFF,, their intentions are clear they want to eliminate citizens.
The man might have a point, South African citizens occupy their minds and time with mediocre things that are not sustainable in the long run. They don't know about leaving a legacy - all they do is spend and waste their time partying and drinking.
https://twitter.com/MudauXoliswa/status/1356619533692375043?s=09
Content created and supplied by: Heist.money (via Opera News )