Source: Facebook personal information. Com
Back round of Cyril✌️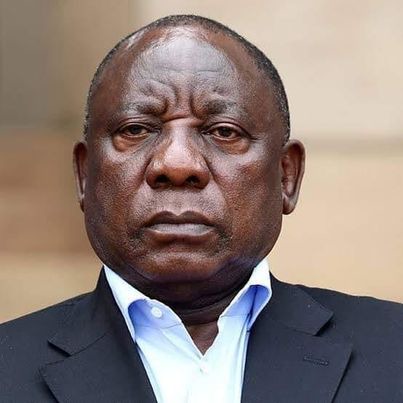 This is the Ramaphosa we know:
1. He started a union at the behest of the Oppenheimers.
2. Born in 1952 in Chiawelo, in 1976 he was 24, there is no record of his involvement in the 1976 Soweto uprisings.
3. Oppenheimer family paid for Ramaphosa's fees to study law.
4. In the early 80's he is a clerk in an Oppenheimer mine, after studying for a B Proc.
5. At 26 years old, he was seen as the only black board member in attendance at the Calton Centre for Oppenheimer business venture.
6. In 1982 he becomes the founding secretary of NUM, a union created at the behest of the Oppenheimers.
7. 1991 he is a non-voting delegate in an ANC conference (unless evidence to the contrary can be produced), he comes out an SG, a position he would later resign from(showing no allegiance to the ANC).
8. Somewhere in the early 90's he is chairing an NWC meeting and decides to change the head of intelligence by replacing Zuma with Lekota and head of negotiations by replacing Mbeki by himself (an intentional move probably from the Oppenheimers).
9. He together with Roelf Meyer writes a constitution and design the flag (I doubt there was any public consultation) that is praised as the as the best in the world but says nothing about the LAND and no other country adopts it.
10. In 1993 he becomes one of the richest black men in SA.
11. In 1993, Ramaphosa appointed Gordhan as Chair of the then Transitional Executive Council (TEC) which agreed to pay the $83 billion apartheid debt accumulated by the illigitimate apartheid government of Malan, Botha and De Klerk.
12. In 2012 Miners are shot dead, there are allegations of his involvement (he later apologized for this).
13. In 2017 he is elected President of the ANC, and in February 2018, he forces his way to the presidency, the same manner he had parachuted himself to an SG position in 1991.
14. He Employs his old friend Jabu Mabuza as Eskom board chair, Chris Maroleng from eNDA otherwise known as eNCA. Jabu Mabuza was also a board member of FNB IN 1992 DURING APARTHEID.
15. VAT increased immediately after he took power.
16. Halts a move to nationalise the South African Reserve Bank.
17. He halts the Mining Charter which was to see black people owning 30% in the mines.
18. He halts a move to amend the constitution and expropriate land without compensation.
19. He increases grant by R10 but his banking friends where even his minister Pravin Gordhan hold shares, charges grant recipients R10 bank fees.
20. The country experiences load shedding and plans to privatize Eskom are put in place.
21. His administration issues a directive for employers including government to do a reference check by accessing the candidates' social media profiles before employment (Don't talk against his government).
22. Immediately after he ascends to power, The FS Premier Ace, NW Premier Supra, former President Zuma and many others who are said to have not supported his presidential bid are taken to courts.
23. Cyril Ramaphosa and Jeff Radebe are married to Patrice Motsepe's sisters, Jeff signed a R1.4 trillion IPPs contract where Shanduka (Cyril Ramaphosa's company) and African Rainbow Minerals (Patrice Motsepe's company will benefit and a host of other foreign companies).
Let's hope you enjoyed the article please like and share it....
Content created and supplied by: AmazingNews (via Opera News )