Lucky Montana tells Zondo to go to absa as they request his banking records.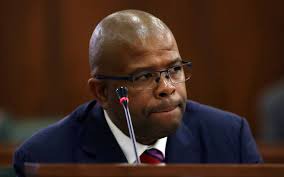 Lucky Montana the former boss of South Africa's passenger rail agency told Judge Zondo in his testimony to go to ABSA for the bank records. This comes after he denied testifying and calling the enquiry witch-hunt
The report by Sunday times says thay Montana filed a 45-page affidavit seeking the JSC to investigate Zondo for his handling of corruption allegations involving the Passenger Rail Agency of South Africa Prasa.
"They must not only get his records, but his whole family's records too. From all the banks!"@Realroccobabbo
"I'm not surprised. This is going to be very interesting. Can't wait for Montana to sit and start to 🐥."@Sentimentalga
"Banking records are becoming a nightmare for some people. What's difficult about making them available if you know they will show monthly salary entry, dividends, grants and your expenses...ucacise apho uZondo angacacelwanga"@yandisanodada
"how do banking records work. Someone I know sealed his with the courts."@ntwanayamodimo
What is your take on this issue?
Content created and supplied by: Vuyokazikafile04 (via Opera News )