President Cyril Ramaphosa set to address the nation today at parliament. He will make his entrance in a parliament meeting where the will be 50 people capacity, and deliver the state of nation address.
The president will address more about the covid-19 pandemic, this will include the vaccines which were brought into the country. It was found that these vaccines especially the astrazeneca will not be used as it is not powerful to fight the virus, but instead they will use Johnson and Johnson vaccine. The president must also explain why did they purchase a vaccine which is soon to reach expiry date.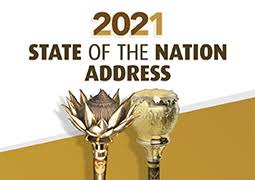 Another thing which people can expect from today's speech, will regard the economy. People want to know how will the government boost the economy. Another thing will be about job creation or unemployment, we have seen that ever since the covid-19 pandemic attacked us many people have lost their jobs.
In today's Sona the president must come up with solutions to all the problems which South African citizens are faced with.
Content created and supplied by: MisterLee (via Opera News )