Dear Mthuli Ncube,
You have FAILED dismally to communicate to citizens about what you really have, and how you will get vaccines for citizens. What do you need money for if you have set aside US$100million?British ambassador said that UK will vaccinate 20% of Zimbabweans
Prof. Mthuli Ncube please stop this thing of looting. Mnangagwa must use his money he looted from Chiadzwa, to buy vaccines for everyone even Chiwenga looted a lot of diamonds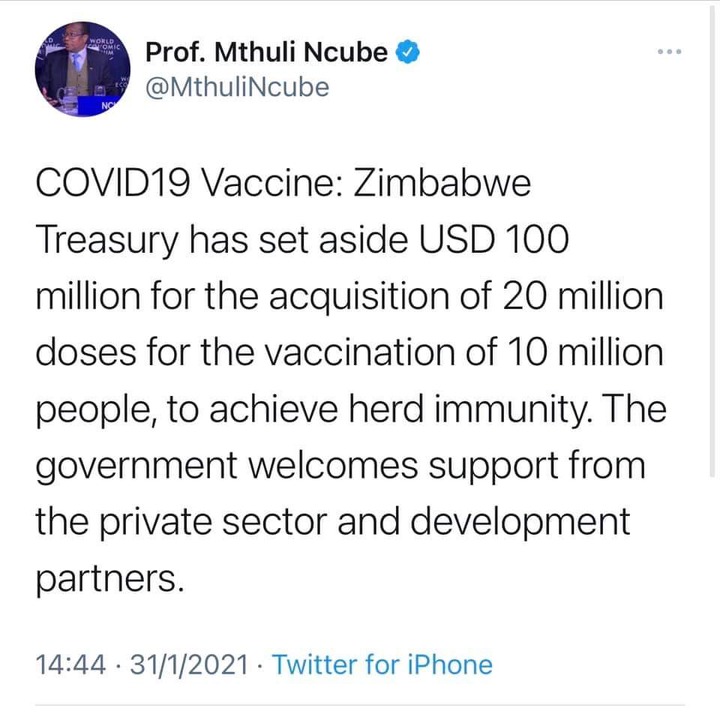 My maths is not adding up, first of all I gather the vaccine is for people 17 years and above. Zimbabwe's population minus those below 17 is well below 10 million. Or maybe the number has contingency to get to 10 million? 
You will only find that vaccine at blackmarket if you go to hospital, they will tell you that they dont have the vaccinine go and see Mr chimurenga on the blackmarket, then come back here and we will do the rest
The business community is already suffering due to the imposed lockdown, and he wants to milk the same struggling businesses. Mthuli is something else
The ordinary people are overtaxed and many have lost the source of livelihood due to the imposed lockdown, but Mthuli wanted them to pay for the vaccine
The businesses are overtaxed and many have suspended operations due to the imposed lockdown, but Mthuli wants the same businesses to donate for the acquisition of the vaccine
Mthuli is always bragging about achieving budget surplus, which enables the government to provide safety nests for the ordinary people, so where is the money now?
What is the money for then ?
My Opinion
Content created and supplied by: WeOfferNews (via Opera News )