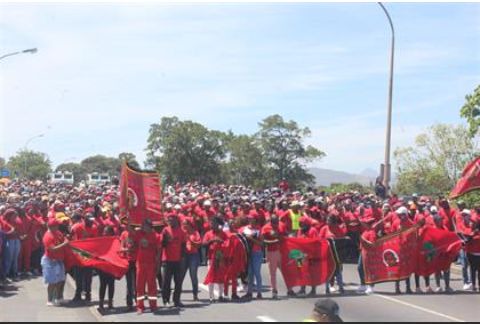 Economic Freedom Fighters and Kraaifontein demanding services delivery.
Over 3 000 battalion took to the streets of Kraaifontein everyplace they demanded cops tackle the security challenges of their kasi.
They handed over a memorandum to the clinic management, the other demand was including the diversity of the top management.
At the police station, EFF regional C.E.O. Unathi Ntame held cops are impassive to complaints and called for Major-General Gerda forerunner Niekerk to go.
"We don't desire the place to be headed by a colorless one anymore. This quarter is predominantly black and the leadership of the pilfer supermarket ought to return such," understood Ntame.
EFF gave the municipality 5 days to respond, or they will go back to the streets again.
After that, a sea of red berets braved in the hot weather and marched to the civic offices that are on the other side of the railway they demanded service delivery.
"The municipality closes water for residents in Kraaifontein every weekends. they forget that people do their laundry on weekends," said Ntame.
Kraaifontein occupier Nomsa Jalamba (38) from Bloekombos said water has became now an issue.
"We need water on weekends and we have reported this issue several times to the municipality, and no one is listening to us she said".
The residents also demanded electricity and irrigate to be rolled out at the newly conventional informal settlements.
At the City of Capetown offices in Kraaifontein, fighters, and residents, submitted a message of difficulty which was expected by councillor exempt Twigg.
"We are tolerant your memo and we will further it to applicable departments and answer back to you," assumed Twigg.
There was no violence as police where watching during the announce with several other cops manning the municipal offices but protesters did not do any trouble.
Content created and supplied by: Nomsie (via Opera News )