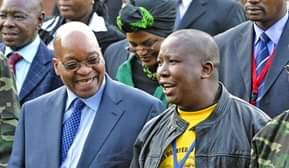 I need someone who is well informed to challenge us with this, Julius Malema is pure capitalist. We taught Juju when he was leading ANCYL in Limpopo to love capital
This how JM understood our teaching back then. We told him to hide some assets in other capitalism, mechanism he seem fit depending on any circumstances
The only naivety that JM did was to get involved in all these, which is not what we taught him. Remember On point engineering company in Limpopo?
Do you know Ratanang Trust?
Do you know JM has onced bought a farm and owned it, and was processing vegetables to sell them to get capital?
The last move was nearly a wiser one, were him and Floyd fronted or registered companies, in the name of family members so they can keep their capital accumulation in those businesses, under family members watch
Unfortunately they got caught in VBS saga, but only those family members are the ones to appear to been involved. But the fact is they are representing JM and FS
The reason I'm saying they were fronting, JM's relative was a student as one of high learning institution, and busy studying but we have been told that he was a consultant in VBS. Just imagine a consultant student with no qualification, but giving services to a well established and legally controlled mutual bank?
Of course any consultant will tell how she or he accumulated his or her wealth, of knowledge from studying and also working here and there. Yes JM is good student and can learn from street but, he can not use his vocab satisfactory to protect himself from been in troubles
Zuma has mastered this art hence his son was his custodian, of all capital accumulated through Guptas. As long as no one will go to jail on state capture, Zuma will remain multi billionaire
Lastly, JM learnt our lesson that, preach the gospel that will hide the intention, and do your personal and private things with your buddies
All we know Mazotti, we know about fleet tender that EFF got through coalition in City of JHB ,were JM money is in the hands of the company ran by his friend (fronting), in Tshwane there are oil or petrol tender too. In the City of Ekurhuleni we are still waiting to get what are EFF is getting, because JM and Mzwandile Masina are buddies and can eat and dine together
That's why EFF in Ekurhuleni is dead because of the deal between JM and MM, hence EFF councillors there you have never heard of them running any programme against Masina
For those who believe what CIC is saying when he address you, fighters just know that is not what JM is going to do in his heart. He just out you at bay but his main focus is to have more capital, so he will be the worse populist leader we ever produced
His agenda is capitalism agenda for himselves and crumbs for the few who say, yes boss to him because once they can try to differ, they will be booted out like many who have been expelled, us just left because our mission is to remove ANC not to lead in ANC like JM is waiting to do
Julius Malema is pushing ActionSA agenda in his heart, but getting bread by ensuring that ground forces of EFF cannot see the real picture
He know they cannot see, thats why he is making sure to make himself the only one, that can do as he wish without following EFF constitution , code of conduct, and deployment policies
Thus why EFF constitution will never have term of office for CIC, because he knows no one will ever tell him his term is over
My Opinion
Content created and supplied by: WeOfferNews (via Opera News )