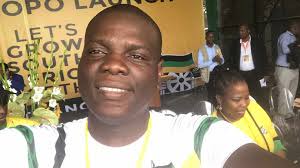 Ronald Lamola is one of most vocal, learned and young resilient leaders in president Cyril Ramaphosa cabinet. He has been a leader since his time as an undergraduate law student at the University of Venda. He loves education and has several certificates and a master's degrees in law.
It is undeniable that the people of South Africa love the young politician. This saw him being elected as a member of parliament in May 2019 elections. He has also held high positions in ANC and in other South African government offices.
Below is the inspiring biography of the son of the farmer workers that continues to make a name for himself and bring change in South Africa.
He was born on 21st of November 1983, he is 36 years old. He was born in Bushbuckridge, Mpumalanga. His parents are farm workers, he spent his childhood on a farm compound that his parents lived in while working. His strong political views concerning land are probably because he grew up there.
Ronald Lamola is married to a woman who is known as Bawinile Prudence Moratiwa Msiza. They got married on the 8th of March 2013, at the Cunning Moor in Bushbuckridge.
He has a stunning academic background. Since parents could not afford to pay his school fees, his elder sister, Constance used her salary to ensure he stayed in school. He graduated with a Bachelors of law LLB degree from the university of Venda in 2005.
In 2006, he attended UNISA to get practical legal training. From 2007-2008, he obtained his post graduate certificate in law from UNISA and got his master's in law from university of Pretoria.
Content created and supplied by: Sekani_Joy (via Opera News )