The Zimbabwean dictatorship is feeling the heat of the anti-corruption and investigative journalist Hopewell who has exposed countless corruption cases. His famous one is when he exposed the $60 million (R800 million) that was stolen by the health minister together with the president son. The health minister has been fired and arrested but not at a cost of his freedom. He has since been arrested three times spending 80 days in prison without trial in the last six months.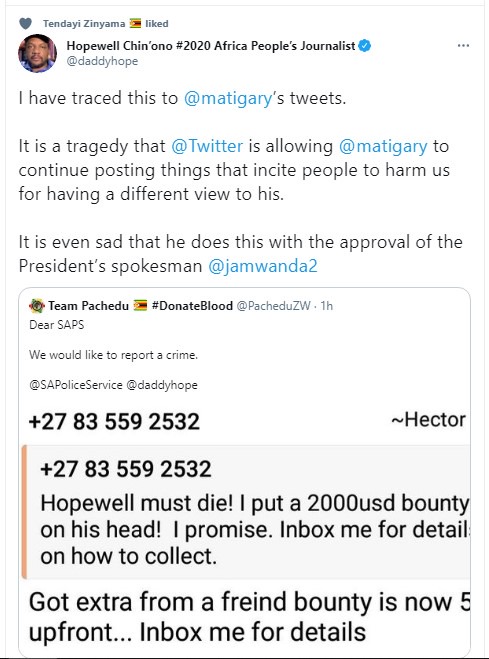 Now the deranged Zanu PF regime is going a step further putting a $5000 (R75 000) bounty on his head. The number that was used to arrange for his bounty is an MTN South African number and has since been linked to Zimbabwean presidential spokesman George and his security guy who use the Twitter handle @Matigary. Hopewell has since written to tweeter for the pair to be banned from the platform for spread hate and fake information.
It's not the first time that this dictatorship regime has done something dark to the journalist, Dzamara was abducted from a barbershop on 9 March 2015 he has been found even now with many people presuming he is now dead. He experiences the same threats from the same people before his disappearance.
Content created and supplied by: IzindabaZabantu (via Opera News )