Former first lady accuses Ex-President of hiding his assets.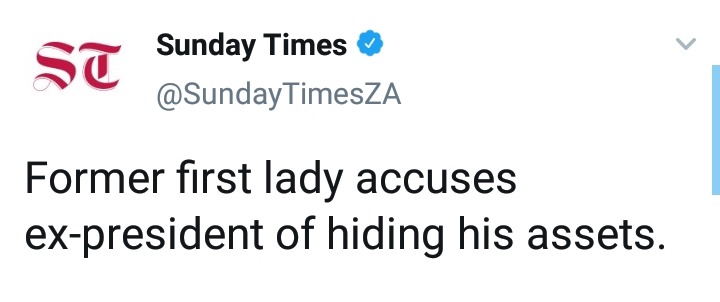 Mzantsi reacts to the report by Sunday times that the Former first lady accuses ex-president of hiding his assets.
"Investigate his children that's where he hides the loots!"@lalaveve
"Zuma, you see now is not only Zondo who is after you, even your ex, will you ask to revise herself?"@DiapoMashile
"Lol! So? How's that your business? Don't you guys want to move to Nkandla so you can tell people about how many chickens and goats are there? Even what Zuma eats for breakfast🤷🏽‍♂️"@_Africansoil
"No hiding for that scumbag from nkandla, wonder who is gonna blame now JVR ?"@vusi_sa
"I'm tired of this man's dysfunctional personal life. Respect your readers."@khutsorapudi
"I wish they can all leave, not empty handed of course, man is so selfish and he has taught his son, Edward and the 2twin children to be like him."@justiceB_m
"And at the same time if judges need to access bank accounts as proof you complain."1Thepowerance
What is your take on this?
Content created and supplied by: Vuyokazikafile04 (via Opera News )