In the recent awoke of the state capture and the fight against corruption, we have seen a lot more of uMkhonto weSizwe which led to many now being confused on what exactly is the purpose of the uMkhonto weSizwe.
The uMkhonto weSizwe was founded by the late Nelson Mandela who was the first black president of South Africa and Walter Sisulu. The uMkhonto weSizwe which means "Spear of tbe nation" was formed as an armed wing of the African National Congress. It's mission was to fight against the South African government and it started operating from 1961-1994.
It was on 16 December 1961 that the uMkhonto weSizwe launched its first attack on the gorvenment installations. It was on numerous accounts that uMkhonto weSizwe was considered to be a terrorist organization by the government.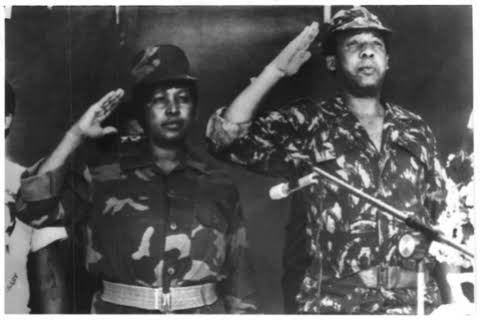 On the 11 of July 1963, 19 ANC and uMkhonto weSizwe leaders including Arthur Goldreich and Walter Sisulu were arrested at Liliesleaf farm Rivonia. The farm was privately owned by Arthur Goldreich, however it was purchased by the South African communist party and the ANC funds mainly because black people were not allowed to own a property in that area.
At the beginning of June 1961, after a long and anxious assessment of the South African situation, Madiba and some colleagues, came to the conclusion that as violence in this country was inevitable, it would be unrealistic and wrong for African leaders to continue preaching peace and non-violence at a time when the government met our peaceful demands with force.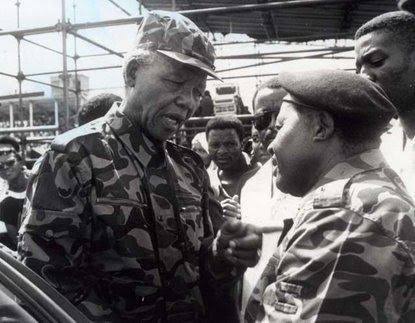 "The conclusion was not easily arrived at. It was only when all else had failed, when all channels of peaceful protest had been barred to us, that the decision was made to embark on violent forms of political struggle, and to form uMkhonto we Sizwe. We did so not because we desired such a course, but solely because the government had left us with no other choice. In the Manifesto of uMkhonto published on 16 December 1961, which is exhibit AD" said Nelson Mandela.
These are some of the notable members of the uMkhonto weSizwe in addition to co-founder Nelson Mandela.
Tatamkhulu Afrika
Anton Fransch
Tom Sebina
Joe Gqabi
Denis Goldberg
Harry Gwala
Chris Hani
Ronnie Kasrils
Moses Kotane
Tryphina Mboxela Jokweni
Lennox Lagu
Lambert Moloi
Jerry Masisi
Moses Mabhida
Mac Maharaj
Vejaynand Ramlakan
Solomon Mahlangu
Gorvan Mbeki
Thabo Mbeki
RobertMcBridge
Raymond Mhlaba
Wilton Mkwayi
Joe Modise
Thandi Modise
Alex Moumbaris
Phila Portia Ndwandwe
Siphiwe Nyanda
Solly Shoke
Godfrey Ngwenya
Walter Sisulu
Thabiso Mokhosi
Lindile Yam
Vusimuzi Masondo
Joe Slovo
Marion Sparg
Oliver Tambo
Tony Yengeni
Andrew Zondo
Fabian Msimang
Refiloe Johannes Mudimu
Samuel Hlongwane
Aubrey Sidibe
Davidson Masuku
Duma Mdutyana
Sipho Binda
Rudzani Maphwanya
Lawrence Mbatha
Wilson Nqose
Jacob Zuma
Isaac Lediba Maphotho
Content created and supplied by: Phukubjenthaa (via Opera News )