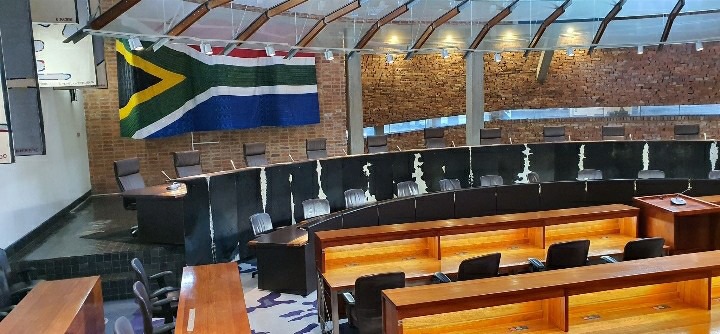 In terms of the common law hearsay evidence was inadmissible, our law of evidence anticipated the need for the admission of hearsay evidence. The pertaining to hearsay evidence was of relevance to English common law. Hearsay evidence in general definition is understood as being information that cannot really be proven, it is often heard by someone else and it can easily amount to nothing more than rumours. This is because the witness who gives the hearsay evidence cannot vouch for its reliability. 
Definition of hearsay by statute and the exceptions of general rule.
Hearsay evidence is defined in section 3(4) of the Law of Evidence Amendment Act No. 45 of 1988 evidence, whether oral or in writing, the probative value of which depends upon the credibility of any person other than the person giving such evidence. Section 3 provides that hearsay is generally inadmissible, subject to a number of exceptions. This section provides grounds in which hearsay evidence can be admitted, Section 3(1)(a) If there is consent to the admission of the evidence. Need not be expressly given implied consent by a legal representative has been accepted. In the case of S v Ndhlovu Section 3(1)(b) Hearsay may be admitted if the court is informed that the person on whose credibility of probative value the evidence depends will be testifying later. In terms of Ndlovu case The subsequent witness must actually testify about that which was earlier referred to as hearsay.
Factors leading to Hearsay evidence being inadmissible.
According to the ruling held in S v Ndhlovu hearsay evidence is unreliable is twofold, if the Hearsay testimony is not subject to the same reliability checks applied to direct testimony. Party opposed to the admission of the hearsay evidence would be procedurally disadvantaged by not being able to counter effectively inferences that may be drawn from it. The court held that these factors might even infringe the constitutional right to challenge evidence thus presiding officer has duty to guard against the inadvertent disclosure of such evidence and must ensure unrepresented accused is properly briefed as to implications of hearsay evidence to their case again must protect person who stands to be affected by such evidence against the late, unheralded admission of hearsay evidence. 
Section 3(1)(c) allows the court to admit hearsay evidence if it is in the interests of justice. 
The court should consider six explicitly factors as well as any other factor. Namely, Nature of the proceedings Metedad v National Employers' General Insurance, The nature of the evidence, Purpose for which evidence is intended, The probative value of the evidence, The reason why evidence is not given by the person upon whose credibility the probative value depends see S v Nzama and Another, Prejudice to opponents, 
Common law and statutory exceptions.
There are two main categories under the common law, statements by deceased persons; and spontaneous exclamations. statutory exceptions hearsay, affidavits under section 212 of the CPA, applied also to criminal cases via section 222 of the CPA and birth and death certificates. spontaneous exclamations is their reliability. There are four main requirements: namely a startling occurrence, spontaneity, no reconstruction of past events permissible and narrative parts excluded.
Conclusion.
With reference to the above, it is advisable for presiding officers to thoroughly weigh the different factors mentioned above when deciding on whether or not to allow hearsay evidence. Furthermore, it is imperative allowed to attach weight to the hearsay evidence. hearsay evidence should be corroborated by other evidence before a decision is made. However, a transcript of disciplinary procedures is regarded as prima facie evidence if it meets the criteria it was ruled in the Minister of Police v M and Others case.
Content created and supplied by: Sports'update (via Opera News )