Regardless of the press and media painting both men in contradictory perceptions,sometimes as heroes and at times as corrupt. Amongst all contradictory statements by the media,I took sometime to make my analysis on both men,share your thoughts on the matter below.
Jacob Zuma,by far the most active president ever to lead South,a true people's leader at his time,whenever chaos arose within our borders he was sure to come down to his people on the ground,he thrived amongst us normal citizens .He is the one president who could leave the comfort of the Union buildings and walk in to an uprising of protests with the smell of tyres burning our communities,and at his age he can bring live to a crowd,personal the man's aura is lively and he can dance.For months now he is being crucified by alleged corruption charges against him none of which bare yet to lead to his arrest,by far there must be almost a thousand charges yet none can put him in jail,why is that?
In the Zondo commission almost all witnesses implicate msholozi but still with the alleged evidence the commision still can't recommend his arrest besides that of his refusal to testify. Is there really tangible and irrefutable evidence to prosecute or it's just a smear campaign aimed at tainting his image to advance other people's ambitions.
Zuma is alleged to have captured the state with an Indian family the Gupta's who happen to be Africans,they looted and enriched their families at the expense of our government resources in the process making many other blacks rich,not saying what they apparently did was right but let's admit they circulated the wealth amongst Africans atlist.
Cyril Ramaphosa at time's attempts to be the live of gatherings like his predecessor but it's obvious it's not his true nature,the man practically raised by White's,the minority has taken food care of him,including his education,it is only fair to say he is indebted to the white minority for life,as his lavish lifestyle and billionaire status was achieved through assistance of the white man. Very good at delegating at most all talk minimal action,yet very cunning and smart in business sense .I believe the multi billion loan was his way of clearing out the enemies amongst high ranking officials,how many of the comrades in the CR-17 camp are implicated in the PPE corruption allegations,it's close to nil yet from the other camp it's amazingly high,he realised greed as a weakness in his enemy and capitalised on it,by the time of conferences he will have no competition all that stood a chance at contesting the presidency will either be in prison or their images tainted forever,that however is politics,the dirtiest game ever.
With the few aspects I highlighted,what's your view on both men,was Zuma really corrupt or is this just an attempt to return our worlth into the white hands and away from the dark skinned ethniciy?
Every man in power has his own skeletons in the closet they just differ in levels, ZUMA''S corruption benefited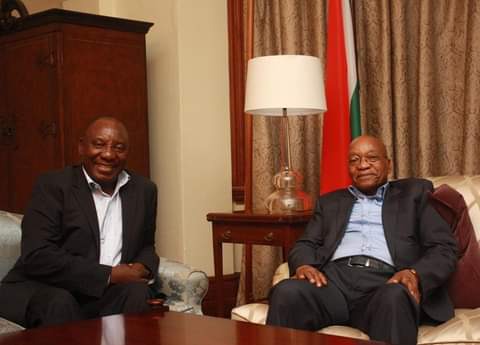 Africans and Cyril's cleverly hidden corruption which I believe though not yet public the future will stand to prove exists,2hich benefits White's and Europe which one can you live with,it's all wrong but which is the worst?
Like and comment below!
Content created and supplied by: J_analyst (via Opera News )