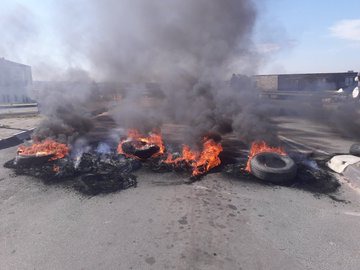 The last few years have been difficult for a lot of people. We are still in need of a lot of things and sometimes service delivery is non existent in other parts of the country.
After so many years of having freedom and independence, we are still far behind with a lot of things. We have received so many promises.
Instead many people are getting the worst end of the stick. A lot of parts all over South Africa have a problem when it comes to service delivery.
We have seen Joburg streets filled with litter and a lot of people complained about it. That's not the only problem, the last few years have been hard as we had to deal with constant power cuts.
For years now Eskom and City Power has been responsible for supplying South Africa with its electricity. Now the system are clogged and things are bad.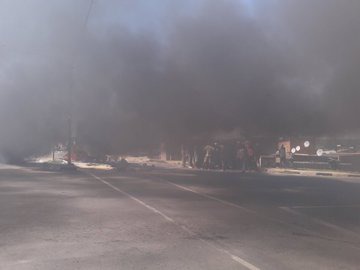 Over the last few years a lot of people have also been getting electricity illegally, a lot of settlements pop up where people just land grab and build their shacks there.
Not only that but a lot of people have extended their homes and adding up backrooms. All of the rooms also need electricity.
As a result, a lot of our power stations have suffered due to overclogging the systems with illegal electrical connections. Over the years new systems have been introduced.
Systems like prepaid electricity but that too has been a hustle as a lot of people have voiced out concerns about spending a lot of money with prepaid electricity.
Nonetheless the power utilities have been trying to get a handle on illegal connections around the neighborhoods. They have been going around and disconnecting wires and cutting off electricity.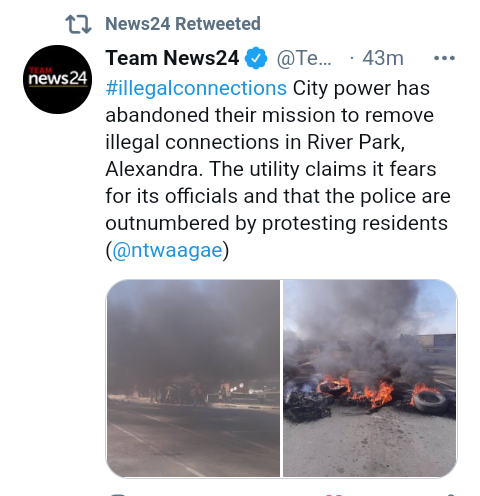 City Power was at Riverside section in Alexander where they where accompanied by a group South African Police Service personnel .
Things quickly turned south when a mob of the community of Riverside came out in large numbers to fight off the City Power officials and police personnel.
They had no choice but to retrieve as they where out numbered by the mob. This just calls concerns as to how far people are willing to go to get and keep electricity.
A lot of people don't want to be without electricity because it can make their lives a whole lot harder. So if the city can't control the usage of electricity then we're about to get more power cuts.
Content created and supplied by: Nkunkza (via Opera News )