What we are seeing at the Daily News of today is what is called Crude or Bad Propaganda. The paper is now clearly part of State propaganda machinery, but unfortunately it doesn't know how to do it effectively!
The paper is practically dispensing school-boy propaganda which assumes that the readers are id ots. It has an agenda, but it is so clearly noticeable if you look at these 6 copies of the paper published at different times, yet driving the same narrow agenda
It shows that its masters are desperate for dialogue, and that they are also desperate to market their political puppet, Douglas Mwonzora. For propaganda to be effective, journalism scholars like Pedzisai Ruhanya will tell you that it must be subtle.
At times one is forced to assume that the The Herald-Zimbabwe, plays second fiddle to the Daily News, because the Daily News is now embarrassing not only itself, but its tradition and history when it was still the paper of record
Today's Daily News has become nothing but just a State news letter!
At least with the Herald you know where it stands!
It is such a tragedy to see a paper which used to sell over 100,000 copies a day reduced to a bootlicking daily rag. It has become nothing but a Daily Joke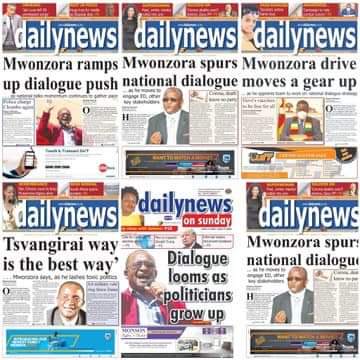 https://www.facebook.com/1714941312061233/posts/2960411610847524/
Content created and supplied by: MangenaC (via Opera News )