Reading time estimated 43s
Source:
I thought it worthwhile to research about MK that is said to be young to be called MK.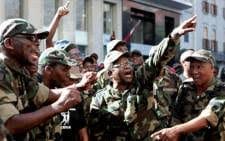 Indeed these Cdes are genuine MK however they were recruited differently from those in exile.
Here is the answer. And please don't spew rubbish about them again.
20 000 nationally, was made up of recruits from the various structures, among them the Luthuli, June 16, Moncada, Madinoga, Young Lions and Barney Molokoane detachments.
The he Luthuli detachment were in their 80s, June 16 in their 50s and above, Madinoga and Moncada in their 60s, and those who were part of the Young Lions and Barney Molokoane detachments were aged between 30s and early 40s.
During that time we recruited lots of young people into the MK ranks because we were preparing for the integration of MK into the new SANDF soon after achieving freedom."
Unfortunately you have MK Council which consists of real trained MK Soldiers only then you have mkva that consists cooks like kb maphatsoe, carl fraud niehaus, some trained MK Soldiers and 16/17 year old rented clowns.
Content created and supplied by: Alupheli (via Opera News )