The Inkandla homestead of the former president Jacob Zuma is sure a place of royalty, as it was controversial when it was erected, many parties voicing that it was built with the states money. The person who was in the forefront of accusing Zuma to have used the states funds for his own use was the leader of EFF, Julius Malema and the whole entire EFF. However the homestead boast of a rich agricultural thing such as gardens and animals.
When Msholozi invited Malema for tea to the Nkandla village, many voiced out their opinions saying of what will transpire when the two meet, some saying Malema will persuade the former president to appeal at the Zondo commission. This meeting so far hasn't revealed what transpired vocally in the gathering except it was one of a jolly good party.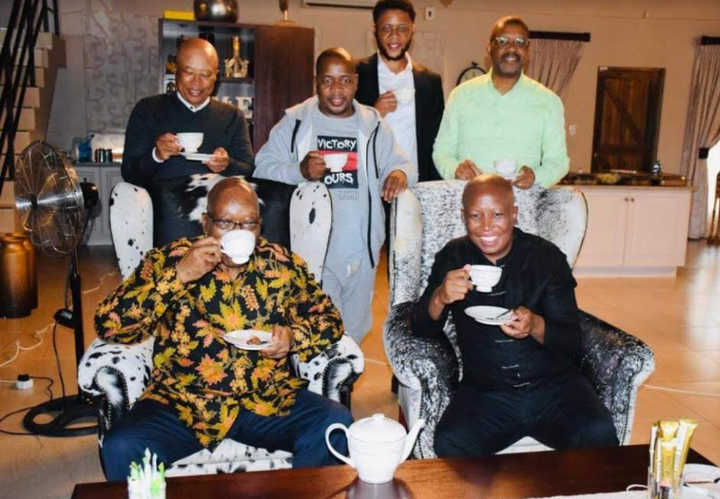 We see smiles from everyone who was there including advocate Dali Mpofu and the mayor of Ekurhuleni Mzwandile Masina. While everyone is anxious about the two former enemies meeting, it is good to know not only tea was served. The former president also went to his kraal and slaughtered one of the goats for the visitors, which was served in traditional style with some wine on the table.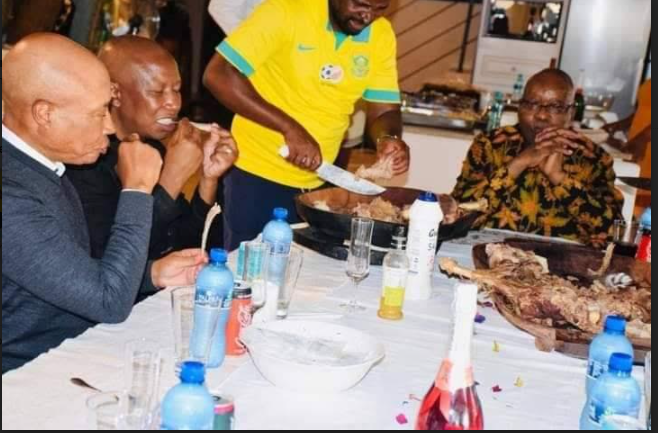 This has always has been a Zulu way of threating guests, which is done by all men who own kraals or even if they only have chicken that when they invite visitors to their home, they mustn't leave without enjoying one of the animals they have in the kraal. What was discussed during these starter and main course meals still remain a mystery but one can certify that it was something good for the host and visitors.
Content created and supplied by: EgedHouseTrustee (via Opera News )