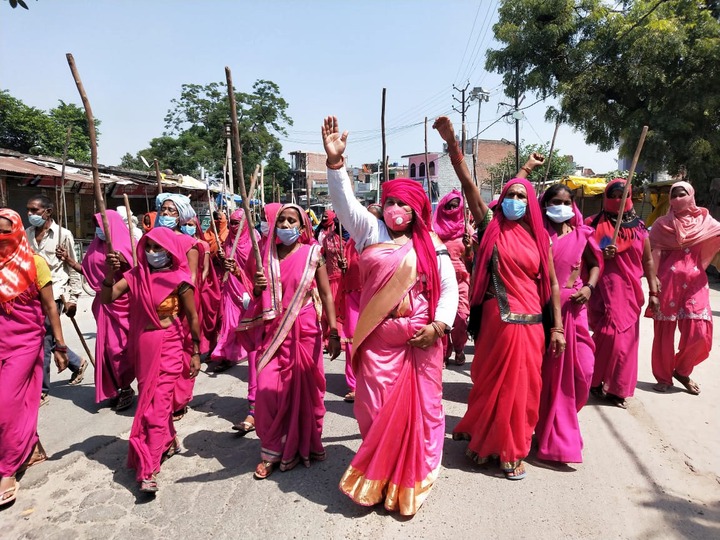 Hemlata Patel is one of the founding members of the Pink Gang. The famous Pink Gang of Bundelkhand was widely known for fighting atrocities against women. Sampatpal, the leader of this pink gang, became very popular, but Hemlata Patel, another leader of this group, could not get much discussion despite being important. The stars of Hemlata Patel's life have been pierced in this report.
 Hemlata Patel hails from Fatehpur district of Uttar Pradesh. This district is situated between Allahabad and Kanpur. Apart from Sampat Pal, Hemlata Patel was also instrumental in building the Pink Gang, but in the growing glare of Sampat's name, Hemlata Patel's name was hidden. Hemlata Patel, also fondly known as 'Didi ji', is affectionately called Didi ji. Hemlata Patel lives in Sujanpur village in Bahua area of ​​Fatehpur. This area is just 15 km from Banda district. At present, Hemlata is making women aware of their rights by forming an organization called 'Pink Gang Democratic'.
 Hemlata Patel was born in 1970 in Chilla Tara village of Banda, a district adjoining Fatehpur. Hemlata Patel was born at the home of Dayaram Vaidya, who has been the head of Chilla Tara village many times. Hemlata is the youngest of her three brothers and two sisters. Hemlata used to get a lot of love and love due to being small in the house. Hemlata's primary education took place in the village itself, although female education was not so prevalent at that time.
 Hemlata says that 'she used to go to a school in the village, but there was a teacher in the school, she used to get the children to do their homework. He had refused to work for the teacher's house, due to which he had failed and due to which his studies stopped at the seventh grade '.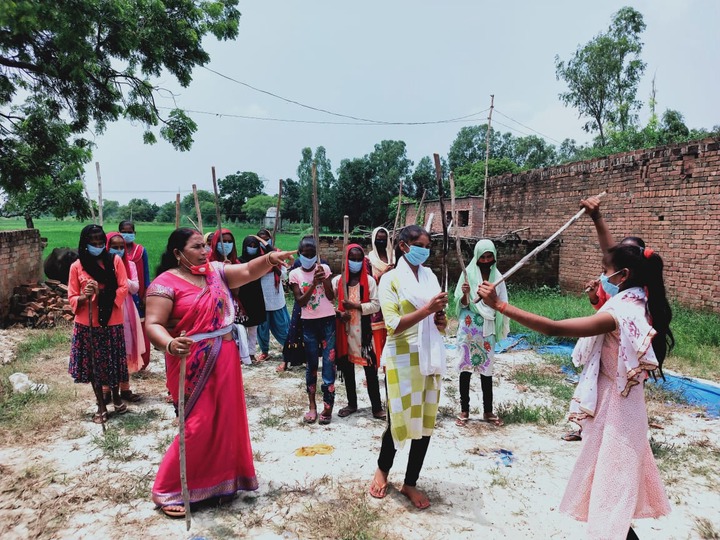 Hemlata Patel was married at the age of 16 to Dharmendra Kumar in Fatehpur's Bahua region, who is currently a junior high school teacher. Hemlata says that it was the custom to marry early at that time, whether it was a man or a woman, but at that time the emphasis was on getting the woman married more quickly because there was no education at that time and by teaching the girl the housework. Used to get married. Hemlata says that when she got married, her husband was doing BA at the time and was interested in her studies. Hemlata says that due to her husband's interest, she was admitted to her in-laws' village school.
 Hemlata studied in her in-laws and completed her incomplete education. Hemlata did high school in 1992 and then in 1994 passed inter alia from her in-laws to a Sanskrit school in another village. Hemlata says her husband Dharmendra Kumar greatly supported and encouraged her education. Hemlata's family consists of two boys and a girl besides the husband, the girl and elder son Satyam Patel are married. Satyam Patel is in Uttar Pradesh Police and younger son Shivam Singh is preparing for civil service.
 Hemlata has been a religious and social trend since childhood. Hemlata was more interested in religious work. Hemlata says that during 2000, people did not have any means of arrangement for religious visits, people used to go for religious travel through an organization. With the intention of undertaking a religious visit to Hemlata Haridwar, the Kisan Union joined because the Kisan Union at that time used to make arrangements for the people visiting the religious visit. Hemlata undertook a religious visit to Haridwar through the Kisan Union.
 In 2004, after coming back from a religious visit to Haridwar, Hemlata joined the Kisan Union and started attending the meetings of the Kisan Union and joined the work of the Kisan Union. Hemlata now started raising problems related to people in front of farmers organization and started diagnosing them. Hemlata says that slowly the leaders of the farmers union started taking care of the solution of the problems of the people and stopped taking the problems of the people in front of the officials in the meetings. She tells that a woman from the village who was too old came to the meeting about her problem and started crying in front of them, she told the union leaders that this woman is very upset and its work is not being done, the union leaders told the woman Did not listen to the matter and asked him to come later. Hemlata says that this made her very sad and also disappointed. He left the farmers union on the same issue.
 Hemlata Patel remained in the farmers union from 2004 to 2008. According to Hemlata, during the four years of the Kisan Union, he raised every issue and problem related to the society and the public in the meetings of the Kisan Union and made every effort to solve the problems. Hemlata says that the village will be happy only then the country will be happy.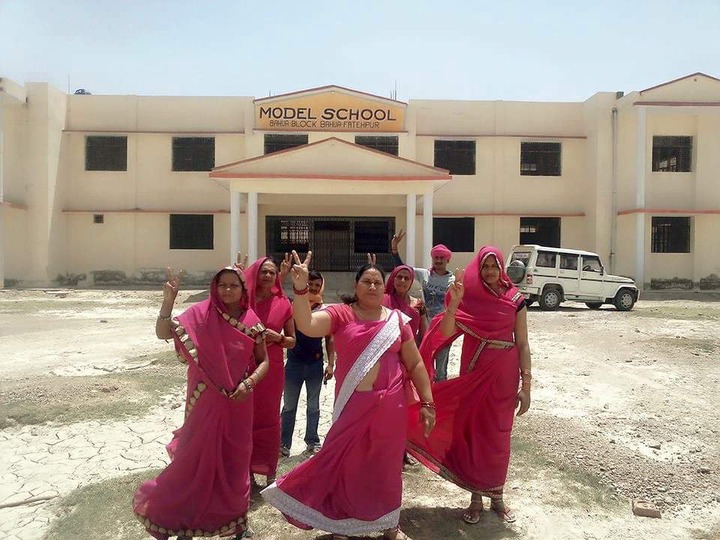 In 2008 itself, Hemlata came to know from a person from the village that there are some women in the nearby district of Chitrakoot who are fighting for women's empowerment and for women to get their rights in society. Hemlata went to Chitrakoot after hearing all this. Hemlata says that when Chitrakoot went, there were many women gathered there, one of them was Sampat Pal. Sampat Pal was impressed by Hemlata Patel's work and took him along and formed the Pink Gang organization aimed at making women aware of their rights and empowering the underprivileged women.
 Hemlata Patel along with other women started working hard to raise the Pink Gang. As the gang strengthened, they began to raise their voice on women's education, domestic violence, female harassment, women empowerment.
 These women of Gulabi Gang started fighting for the poor, women, backward, victims, unemployed in the village. In 2011, there was a Sheelu rape case in Banda in which accused B was an MLA, Hemlata and his fellow women made a noise from Banda to Lucknow and forced the government to take action.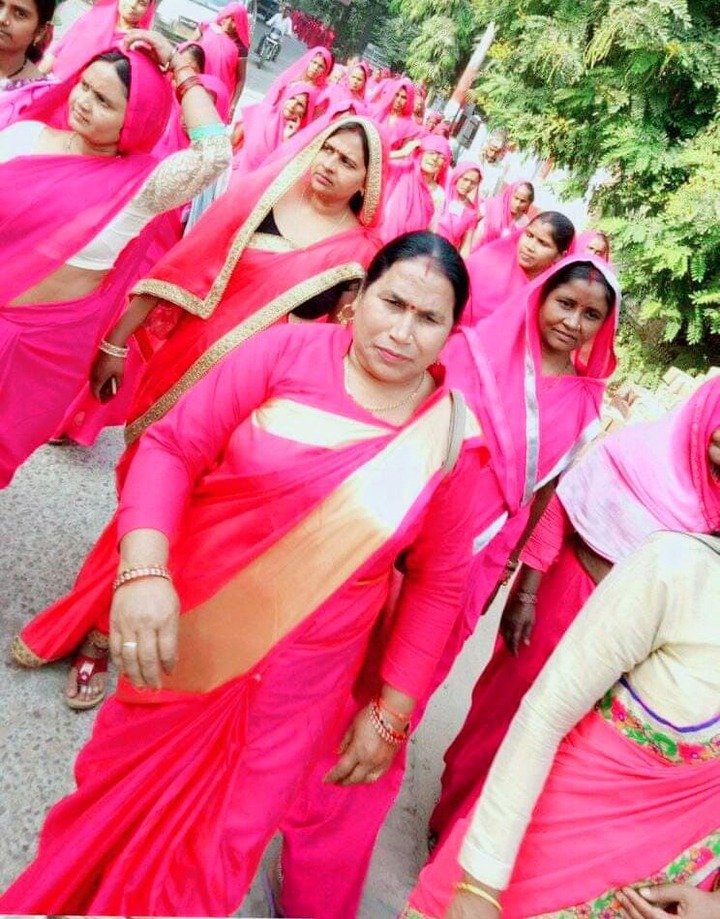 In 2010, Hemlata was elected as the head of his village. Hemlata says she contested at the request of the people and the people of the village also won her. During his tenure, Hemlata got historical work done in which the main task was to build a girls' inter college in the village as well as a model school. Hemlata says that there was no school for girls 'education in the village and the girls' families were afraid to send them to schools in other villages. Hemlata says that to build an inter-college is outside the domain of a headman, yet he ran away and made this work possible which would promote the education of women.
 Sampat Pal, Hemlata and other women were also honored for their bravery by Governor BL Joshi. In 2013, Hemlata split from Pink Gang due to complaints about Sampat Pal working for her personal self and working with money. And she started working for women by creating her own organization in the name of Gulabi Gang Loktantrik.
 Hemlata says that her organization has around 5,000 women from all the districts together. ‌ Hemlata struggled to get women violence, women torture women rights in other nearby districts including Fatehpur.
 Hemlata says that women empowerment as well as self-defense are also taught to women who come into the organization, which is called the Pink Self Defense Initiative. In view of the increasing violence towards women, they were taught to run raft, so that they could use it in their self-defense if needed. Gulabi Panchayat was called under the Gulabi Gang democratic in which women bring their grief and solve the grievance, women's problems are diagnosed. Hemlata Patel Pink Women Self Help Group is also making self-dependent by employing the women of the village.
 She also raised the issue of women's reservation in 50% of panchayati elections during the 2017 Uttar Pradesh Assembly elections. Hemlata Patel felt that if there was to be a permanent solution to the various problems of the village countryside and the issues related to the public, then it would have to come to power, thinking that Hemlata Patel contested from the Independent Ayah Shah Assembly of Fatehpur. Hemlata says that as an independent candidate, the public supported her a lot. Hemlata lost the election but gave people a boost. Hemlata was also widely discussed about the issue of women's reservation in her 50 percent panchayat election.
 When Priyanka Gandhi became in-charge of Uttar Pradesh, she looked at Hemlata Patel. Priyanka Gandhi was greatly influenced by social service, including Hemlata Patel's efficiency, efficiency and activism on women's issues, and called her to Lucknow. Priyanka Gandhi offered him to join Congress and Hemlata Patel joined Congress but Hemlata refused to take any major post. Hemlata says that Priyanka Gandhi said during a rally that 'Hemlata is a pink saree I want too'. Hemlata says that the social services she has been doing till now are associated with the Congress and not for doing politics on a large scale. She says that most of them are engaged in social work related tasks, but they are less able to pay attention to party related work. Despite the intention of not taking the post of Hemlata Patel in 2020, she was made the Women Congress District President of Fatehpur.
 Rajrani, a woman who walks shoulder to shoulder with Hemlata, says that "Hemlata didi has taught them to fight to take away their rights, we get enthusiasm and energy for a lot of social work from Didi". Sudha Patel, a woman of Hemlata's organization, says that "Today the schools in the village are all a gift of didi's hard work, our children today go to school in the village, earlier they had to go to another village. The lady of the village of Hemlata, Shahrun, says, "Didi does get all our small and big government jobs done. We are not so educated, Hemlata didi has got us done from pension to making ration cards".
 Shivam Singh, the boy of Hemlata Patel, who is preparing for the civil service, says that "he likes that the mother is doing social service, listening to people's problems and finding solutions, making every effort to make the people of the village aware . Shivam Singh says that he also gets encouragement by seeing mother to do social service and gets to learn a lot.
 Hemlata Patel says that "she has always been supported by her family in social work or whatever she is doing." She says that her husband always encourages her for social service and supports her every possible way. Hemlata says, "It has always been their endeavor to show women how to live with self-respect in a male dominated society and how to be self-reliant and how to deal with atrocities on women." She says that apart from women's issues, she is also fighting for the poor, the backward, the victims and the unemployed. Hemlata Patel says that the inspiration to do all this social work has always come from father and she is following the ideals of father.
 This article is published by Twocircles.net
Content created and supplied by: SeebuBlackberry (via Opera News )