JOHANNESBURG — Ex president, Jacob Zuma have allegedly criticized the laws of the country for being too lenient, and soft on hardened criminals, saying that legislation is "soft".
Zuma was among the panelists at the ANC's virtual umrabulo session on Sunday, this is where he made the striking revelations.
He said, although he understands that the country's post-apartheid justice system was made to ensure fairness unlike in the past, this has weakened the pursuit of justice. However, he said that justice is usually difficult to get since the laws are too soft and lenient against hardened criminals in the country.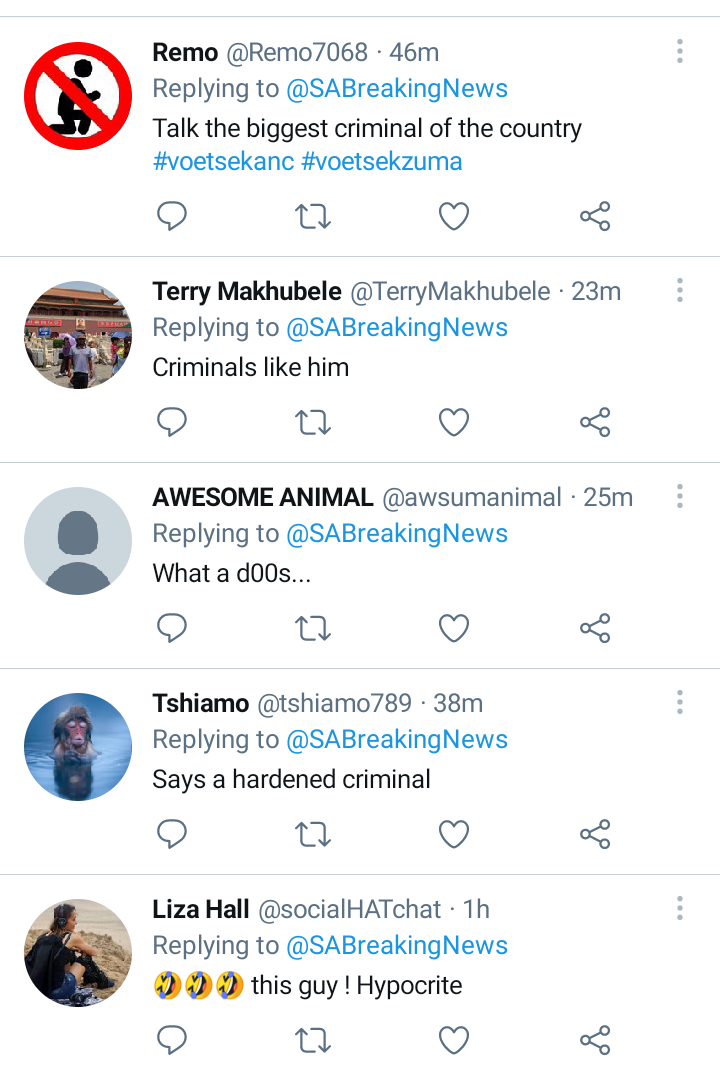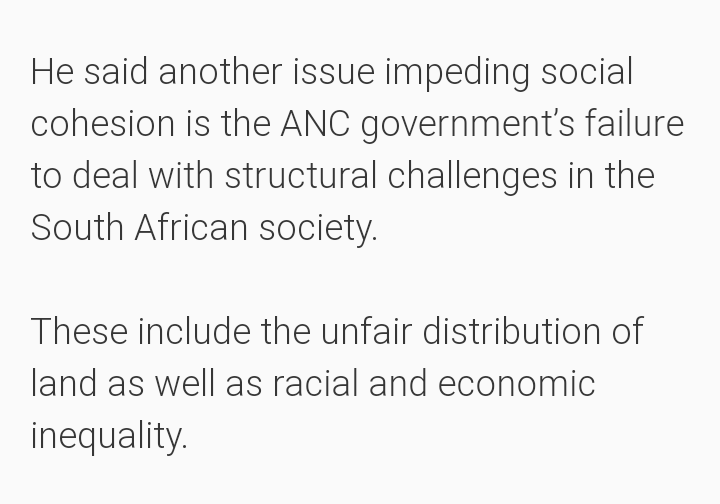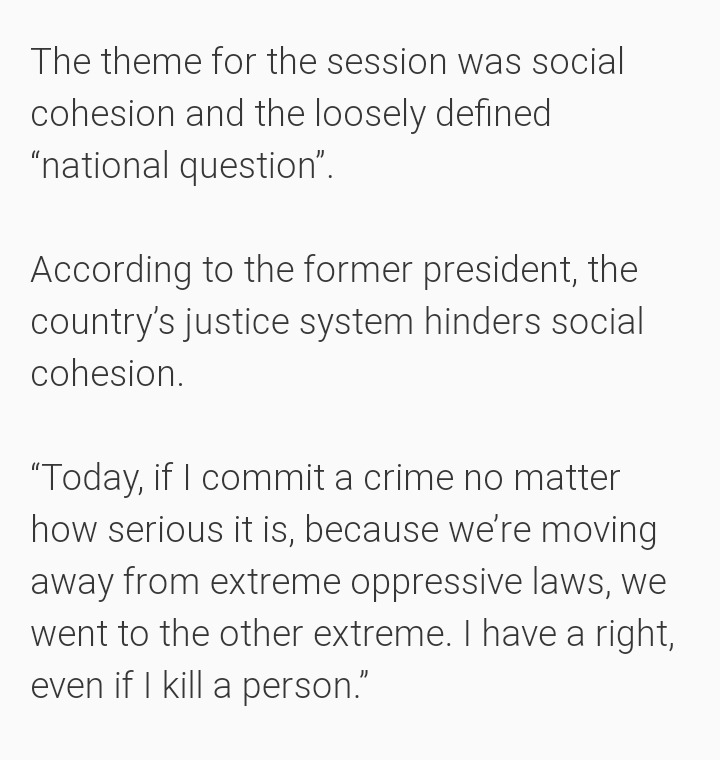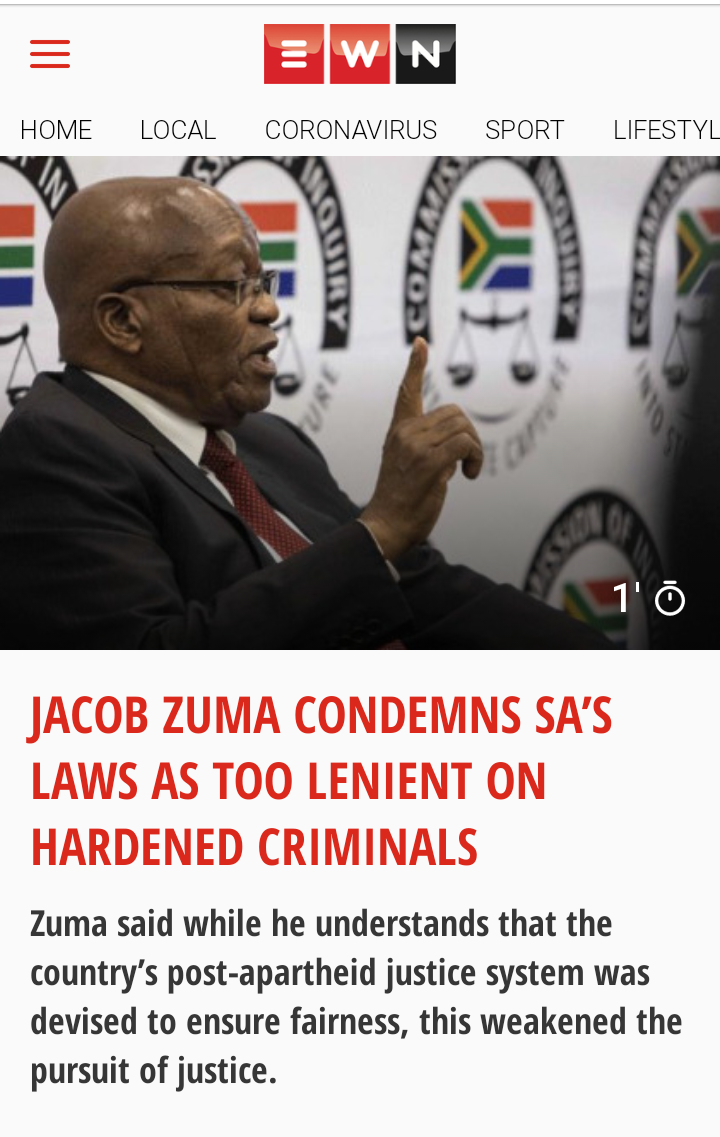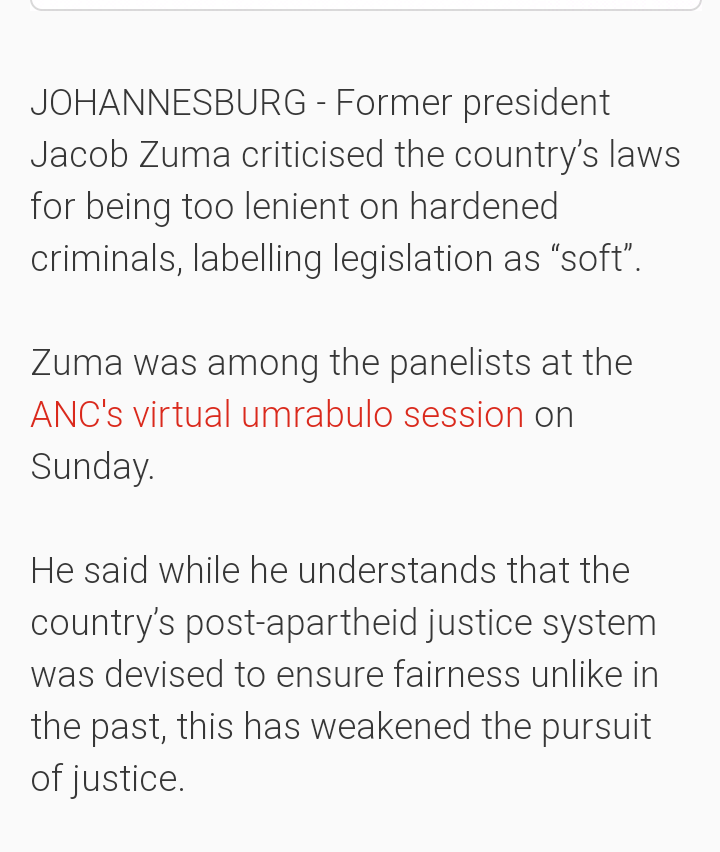 However, many South Africans have come to attack Jacob Zuma for this statement that is attributed to him. They asked what he did for the country while he was president when he noticed that the laws were too soft, weak and lenient. They urged him to keep quiet if he had nothing meaningful to do. One person asked him, "is it today you discovered that the laws are weak and lenient? Why not change it when you were president to make the laws more effective in dealing with hardened criminals. The soft aspect of the law is why you are walking free. You violated court orders, and you have moral obligations to say that the law is too soft for your liking? You are the one that softened the law and made it lenient for people like you ".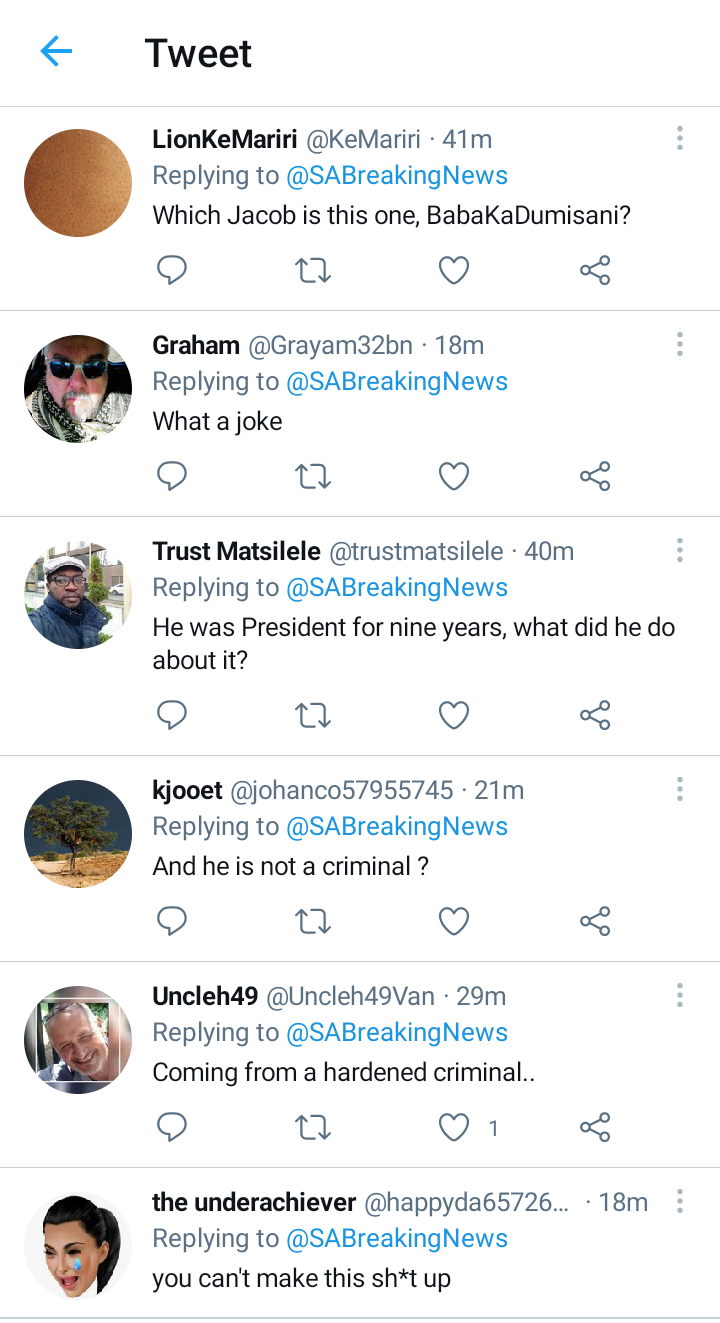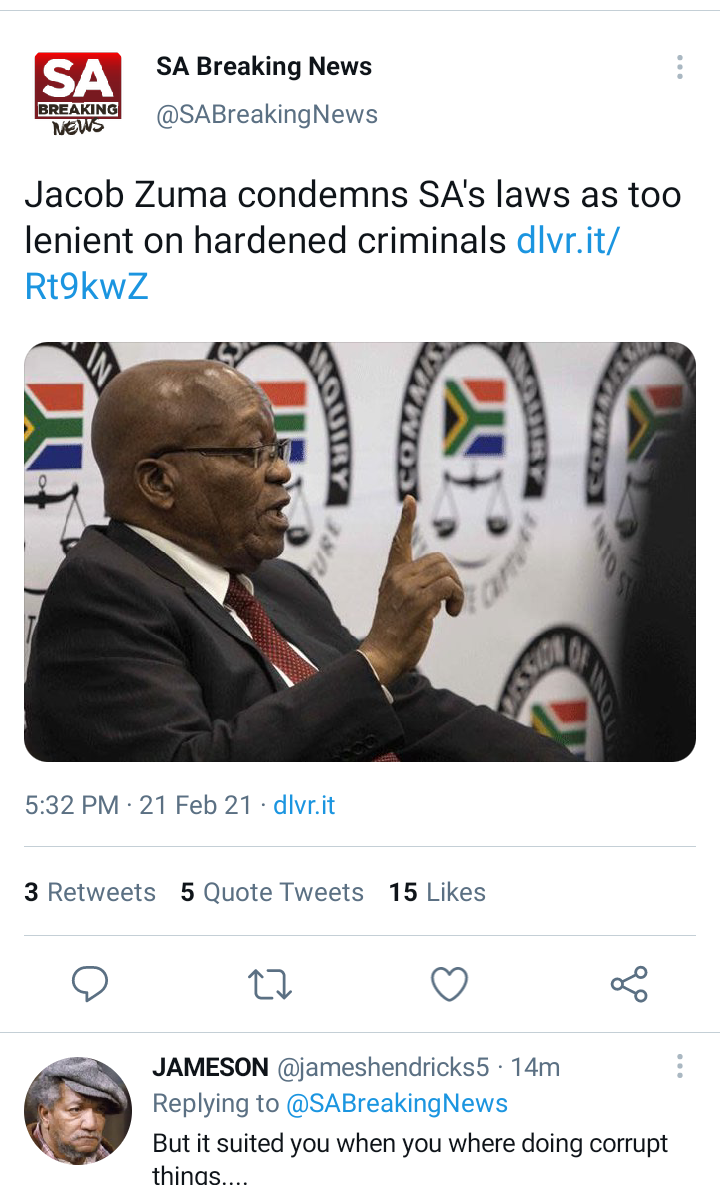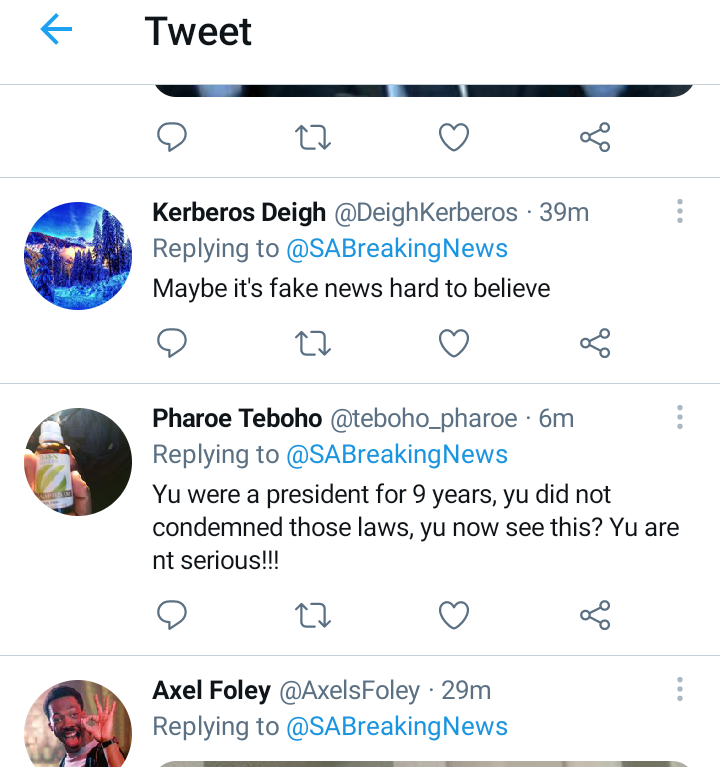 According to the former president, the country's justice system hinders social cohesion. This is one aspect he is apportioning some blames to the legislation. "Today, if I commit a crime no matter how serious it is, because we're moving away from extreme oppressive laws, we went to the other extreme. I have a right, even if I kill a person.", Jacob Zuma declared. He wants the laws to be strong on a hardened criminal so that people can get justice.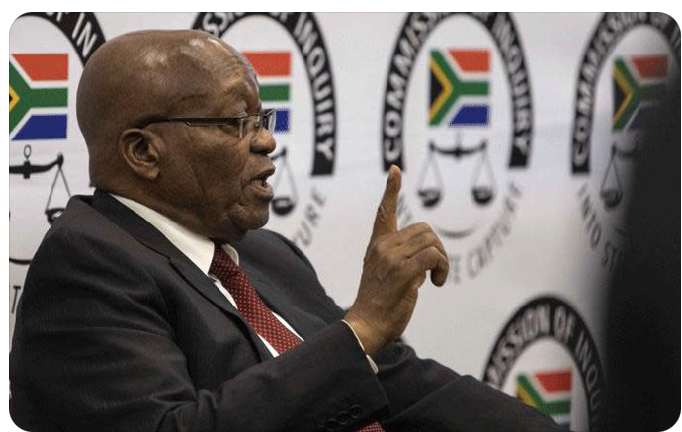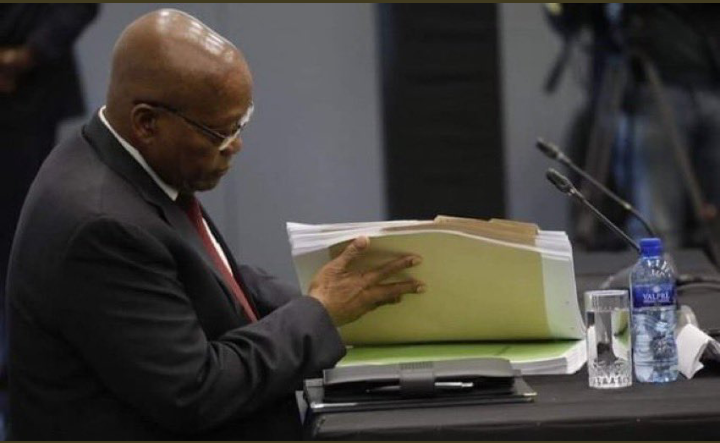 "You were a president for 9 years, you did not condemn those laws, you now see this? You are not serious!!!". This was the reply of one of the people telling him to keep quiet because he is the one making the laws seem weak and soft. Another person told him," the law is too weak and soft, says the #StateCapture kingpin!??
He's 100% correct though, he should have been arrested long ago already!", and finally, another angry youth said, "He was President for nine years, what did he do about it? And he is not a criminal ? Hey, this guy ! Hypocrite".
Content created and supplied by: Anabelblog (via Opera News )