Awful news for Cyril Ramaphosa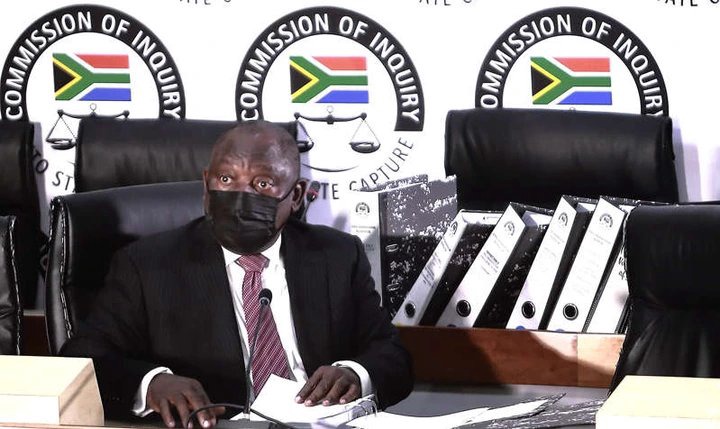 The president should have been plain with the Zondo Commission. He should have revealed to it that Zuma's association had crumbled the trust people had in the ANC and had contributed inside and out to the inappropriateness that has come to depict the ANC. 
a man wearing formal attire sitting in a container 
First appropriated in the Day by day Free thinker 168 after quite a large number of weeks paper. 
The Shakespearean articulations of Julius Caesar are instructive. "Cynics fail miserably frequently beforehand their downfalls; the valiant never taste of death yet once." The declarations of the Versifier are particular from what intensity, in actuality, may plan to the people who attempt to have their names recorded in the accounts of history. 
This obviously suggests that individuals who need backbone and conviction consistently don't procure respect and that President Cyril Ramaphosa might just miss that honor if his show at the Zondo Commission of Investigation into State Catch is anything to cruise by. 
He might not want to nail his paradigm, past president Jacob Zuma, the individual who made it functional for the commission to be set up regardless, yet rather gave him respect Zuma didn't justify, given his own obligation to the actuating of State Catch while in office. 
Realist Immanuel Kant portrays truth-telling as "an optimal commitment" never to be annulled by various characteristics, in no occasion, saving the presence of a buddy. 
Strength and trustworthiness go inseparable – to be straightforward to your sentiments; to stay for truth and value, whatever the peril identified with truth-telling might bring. 
On 5 December 1955, one African-American woman bet catch rather than surrendering her vehicle seat to a white explorer on the Montgomery city transport. She believed in her existence and its uprightness subsequently faced. 
The daring person of shading, Rosa Parks, then 42, unflinchingly drove forward, and would later say: "I should be perceived as a person who should have been free so others would in like manner be free … all I was doing was endeavoring to get back after working all day." 
Genuineness makes us free. Nelson Mandela's genuineness to wrangle with the foe camp, paying little heed to veritable reservations by various people of his allies, reveals to us something about the man. Genuineness isn't for the most part notable. We as often as possible contort it to suit occasions and motivations. A couple, misguidedly, continue to see Madiba as a "sell-out" considering the way that he associated with the system as embodied by white people who ran the awful Public Party politically authorized racial isolation transport. 
Mandela knew it and was an overcomer of the system that kept him detained for seemingly forever. In any case, he really acknowledged he could wrangle with his scoundrels to show up at a more ideal course of action without an abundance of the blood being spilled. It was his world, and he stayed by it. Today his name populates the accounts of history. 
I go astray since I need to arrive at this significant resolution: today the US and the world recall Parks as the valiant lady who offered teeth to the social freedoms improvement. 
The US is a favored spot today over it was in 1955. Today her name is enriched in the annals of history. Today, 5 December is seen as Rosa Parks Day. 
In SA, Makhosi Khoza, past ANC MP and overseer of the Portfolio Panel on Monetary Improvement left her circumstance in Parliament and the ANC, in light of the fact that she changed with her partners in the party. Educated not to help a development concerning no confidence in Zuma in 2017, Khoza jumped at the chance to end her party enlistment than to scheme with evil. 
The two Parks and Khoza were guided by their moral compass to settle on the most astute choice and just, and to follow their still, little voice. 
"I should be perceived as a person who should have been free," said Parks. 
Her name will be reviewed, and engraved in the hearts of many ages who crave opportunity and value and praiseworthy nature. With strength, class, and genuineness she tried the US's political position and may. In monetary prosperity, she was not a political goliath. She stood firm on no circumstance. She was a sewer, a low-paid mechanical production system worker. Notwithstanding, her commitment to a commendable inspiration, and the adaptability to decay to be pestered by the people who saw advantage in the shade of their skins, confirmed her as a rising above woman who truly acknowledged she will undoubtedly change the course of history in her country. Genuineness to her conviction. 
Why did President Ramaphosa not imagine what Parks and Khoza imagined? Genuineness, regardless, when it was not useful to prompt it? He caught; got a kick out of the chance to walked around eggs, cautious, and attempted to keep agreement with his friends, a unimportant piece of the ANC complete. Zuma's years in office were an abomination. Ramaphosa knew it, at this point would not tell the Zondo Commission so. He hoped to keep concordance with his comrades to the weakness of truth-telling. 
Ramaphosa should have been blunt with the Zondo Commission. He should have unveiled to it that Zuma's association had broken up the trust people had in the ANC and had contributed essentially to the inappropriateness that has come to depict the ANC. He should have said partners, for instance, Makhosi Khoza should have been maintained as they hoped to tell the truth taking everything into account. 
Ramaphosa tunneled his grave. He researched his shoulder searching for whimsical foes. There were none. Prior to him there stood one choice, which was to confessed all things considered: that the Zuma time was guileful; and that it made for some South Africans loathsome outcomes. 
Unfortunately Ramaphosa should confront. Mental guts is a judiciousness. Ramaphosa ought to be supported, and be prepared to get it done to confess all. Zuma has no legacy, and needn't mess with Ramaphosa to set him up. DM168 
Jo-Mangaliso Mdhlela is a reporter and minister, and past trade unionist. 
This story initially displayed in our week-by-week Day by day Dissident 168 paper which is available for R25 at Pick n Pay, Restrictive Books, and air terminal book shops. For your nearest stockist, benevolently snap here. 
Zondo Commission: Ramaphosa ought to have had the boldness of his feelings and told every bit of relevant information (msn.com)
Content created and supplied by: Ancmember2 (via Opera News )
Opera News is a free to use platform and the views and opinions expressed herein are solely those of the author and do not represent, reflect or express the views of Opera News. Any/all written content and images displayed are provided by the blogger/author, appear herein as submitted by the blogger/author and are unedited by Opera News. Opera News does not consent to nor does it condone the posting of any content that violates the rights (including the copyrights) of any third party, nor content that may malign, inter alia, any religion, ethnic group, organization, gender, company, or individual. Opera News furthermore does not condone the use of our platform for the purposes encouraging/endorsing hate speech, violation of human rights and/or utterances of a defamatory nature. If the content contained herein violates any of your rights, including those of copyright, and/or violates any the above mentioned factors, you are requested to immediately notify us using via the following email address operanews-external(at)opera.com and/or report the article using the available reporting functionality built into our Platform See More