Koos Bekker told the Zondo commission he will not appear.
Zondo was told 10 10 that neither Bekker or any Naspers executives will be appearing and he kept quiet.
Zuma said the exact same thing and Judge Zondo ask that Zuma be slapped with a prison term of two years.
....then the same judge says he's not bias and refuses to recuse himself..
Even Glencore refused to come to the @StateCaptureCom and there was no hullabaloo
PS. Koos Bekker is the reason why you're brain is so fried with propaganda and you can't think for urself.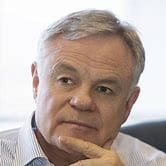 Commission spokesperson Rev. Mbuyiselo Stemela said it was not yet clear whether Naspers would be called to appear before the commission to answer to Carrim's allegations.
"It has not been confirmed yet. When we confirm that a witness is going to appear before the commission we send out communication to all media houses," said Stemela.
In response to the claims, Naspers spokesperson Shamiela Letsoalo said after going through Carrim's allegations, the company had realised that he had not suggested that Naspers had done anything illegal.
"We accordingly notified the Commission that Naspers did not intend to exercise its rights to give evidence, to call witnesses or to cross-examine witnesses in response to the notice received from the Commission," said Letsoalo.
Content created and supplied by: AmazingNews (via Opera News )