Favor and prevalence appear to be running dry for the EFF's previous representative Mbuyiseni Ndlozi. Ndlozi was delayed the Twitter roads yesterday after EFF pioneer Sello Julius Malema posted a tweet proposing a gathering over some tea with previous President Jacob Zuma at the previous legislator's dubious Nkadla residence. 
"@Julius_S_Malema @PresJGZuma would we be able to kindly have tea earnestly?" 
The odd solicitation comes simply a day after Ndlozi freely communicated his perspectives calling for JZ to be captured in the wake of resisting the Constitutional Court by declining to affirm before the Zondo commission. 
"@MbuyiseniNdlozi Zuma will be captured and imprisoned for resisting the ConCourt! In the event that this doesn't occur, at that point we can kiss our Constitutional Order farewell!" 
Twitter was quick to call attention to the logical inconsistency, indeed blaming the gathering for pietism and flip-slumping, for certain allies of the gathering coordinating their resentment explicitly at Ndlozi, blaming him for running his mouth. 
Once warmly alluded to as "The People's Bae" for his attractive looks, Ndlozi's political profession shot him to public popularity and turned into a moment online media hit and darling who fainted the hearts of numerous the nation over with his feisty messy kid engage. He couldn't be blamed under any circumstance in the court of general assessment and his hot presentation of battle melodies, most eminently his interpretation of "Cape to Cairo" with a resonating nectar covered voice, won the love of certain women (and men of honor). 
In spite of the fact that Ndlozi stays an individual from the EFF, he has since emptied the representative position and his notoriety is on a consistent decrease. He has been criticized as Malema's lapdog, his capability brought into question, his sentimental connecting with TV entertainer and maker Mmabatho Montsho was met with much analysis and even calls Mampara of the Year by another distribution. 
EFF representative Vuyani Pambo affirmed to another distribution that a gathering among Zuma and Malema would to be sure be occurring this end of the week, tweeps burned through no time hauling Ndlozi. 
"@sephiritsikeli It should be difficult being an EFF part. Ndlozi said President Zuma should go to jail. Rather Malema did a U-turn and requested baba for a cup from tea to examine the matter." 
Despite the fact that his beautiful advantage may be running out, the Ph.D. Political Theory Wits graduate actually has some help base and a few tweets came hurrying to his safeguard.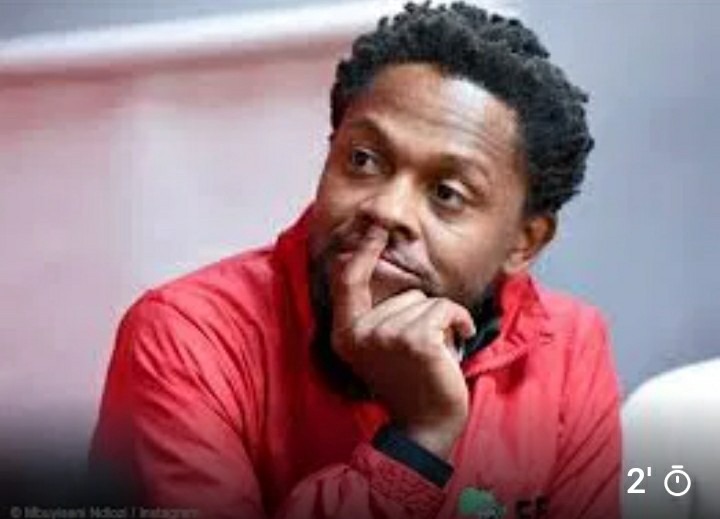 "@zsimayi Niyangxama. Nobody knows the substance of that gathering however as of now you presume that Malema has made a U-turn. Where? Did he disprove Dr Ndlozi tweet? Where did he discredit? Some tea doesn't mean he concurs with Zuma, right?"
Source: I Harare
Content created and supplied by: Lexuco (via Opera News )