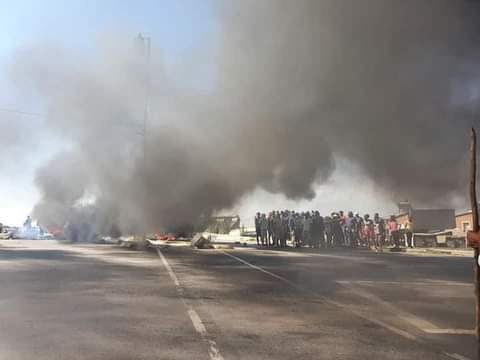 Things got heated up quickly in Alexandra township when the police came accompanying city power to come and cut off illegal power connections.
According to the daily talk SA news Facebook post city power came to Alexandra township accompanied by police with an intension of cutting illegally connected cables earlier today 18 February 2021, unfortunately this plan could not be executed because the residents confronted city power and the law enforcement.
The community members of Alexandra did by all means to prevent the city power officials from entering their homes and do their job, tyres were burned and stones were thrown the mission had to be abandoned because it was unsafe for the city power officials to do their job.
The police where outnumbered by the residents of Alexandra they couldn't contain the situation,at this point it is unknown whether the police will come back again with city power officials in Alexandra with more reinforcement, hopefully the situation can be resolved without any violence.
Many people in South Africa especially in informal settlements use electricity illegally because they don't have the money to afford electricity, electricity has become a necessity in this current generation however it is expensive for some people, the government should try to take measures which will make electricity affordable for all.
Source:https://www.facebook.com/795201140876302/posts/1225736137822798/
Content created and supplied by: TshiamoMbiza (via Opera News )