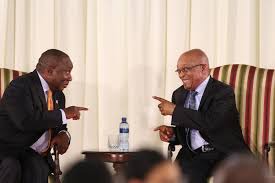 President Ramaphosa have been the deputy to former President Zuma and all those years he watched corruption happening under his nose and said nothing. He played his cards well to the chest, not to step on ANC's toes as he waited patient for his turn to bio into power. If he ever said anything anything Zuma he wouldn't have been where he is, he is just a silent assassin, yesterday at the finer of the wife of the late stalwart Moses Kotane, he weighed in on his Zuma issue 
 "This is a matter that I am sure he is going to give much more thought to because he is being counselled by a number of people and a number of organisations that the Constitutional structure that he contributed so much to needs to be given so much consideration."
Ramaphosa wants Zuma to be arrested, but he was political correct. Some people thought that Malema went there to advice the former President
"I'm sure in his own mind, his own time, he will think about all this. I would like to say, let's give former president Jacob Zuma time and space to think about this and also to hear what other people say," the president said. 
Ramaphosa spoke like a rat that bite you at the same time, it console you.
https://mg.co.za/politics/2021-02-05-give-zuma-a-chance-to-reconsider-defying-concourt-says-ramaphosa/
Content created and supplied by: Rambado (via Opera News )