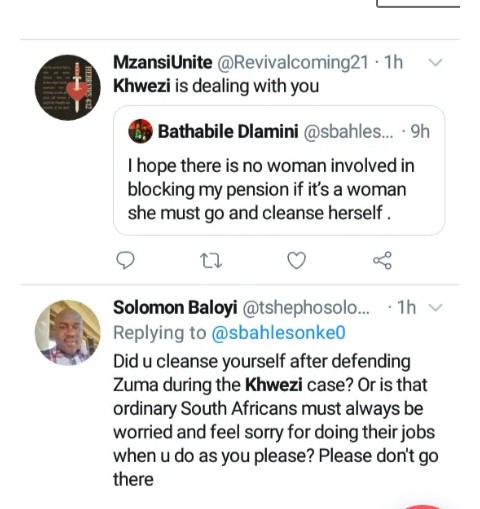 South Africans never hold their fire's, especially when you have done something that wasn't pleasant. Bathabile was in Zuma's side through it all when Zuma was accused of violating Khwezi and people were disappointed at how Dlamini could stick through thick and thin with Zuma instead of supporting a fellow woman and she's supposed to support women by making sure that, their voices are heard as per her position that she holds.
Bathabile tweeted" I hope there's no woman involved in blocking my pension, if it's a woman, she must go and cleanse herself". Tweeps were quick to respond and reminded her of how she failed Khwezi and women as a whole.
They even said, it's Khwezi fighting back for what she did to her.
" Did you cleanse yourself after defending Zuma during Khwezi's case? Or is that ordinary South Africans who must always be worried and feel sorry for doing their jobs when you do as you please? please don't go there", another Tweep asked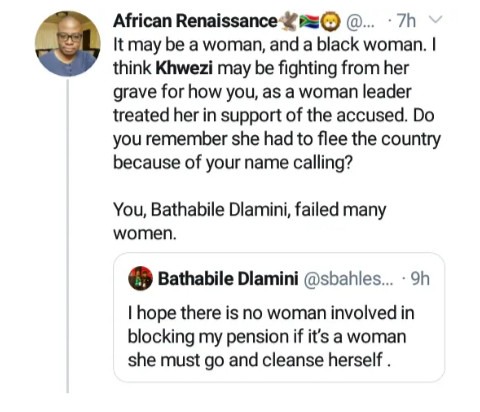 "It may be a woman, and a black woman. I think Khwezi may be fighting from her grave for how you, as a woman leader treated her in support of the accused. Do you remember she had flee the country because of your name calling. You Bathabile Dlamini failed many women" , another commented.
Truth is, your last will always haunt you especially if there are those who were left bleeding from it.
Content created and supplied by: Pamart92 (via Opera News )