Zimbabwe has a long history when it comes to sanctions, both comprehensive and unilateral. The country is a significant case in sanctions starting from 1966. The United Nations imposed its first sanctions on Rhodesia now Zimbabwe in 1966. From that period until present, Zim at one time or another has been sanctioned in six episodes: 1966, 2002, 2003, 2005, 2008 and 2009, making it one of the most sanctioned countries in the world. In a simple analysis Zimbabwe has become a regular candidate of the "sanction industry"
Sanctions against Zimbabwe were imposed in an effort to foster democracy, enhance human rights and maintain the rule of law. Unfortunately the imposed sanctions have done more harm than good and have merely achieved the opposite of what they were entitled to accomplish.
Although there are ambiguity on whether the sanctions are targeted or economic sanctions, they are targeted in the sense that there are some Zimbabwean elites listed in the Specially Designated Nationals (SDN) and they are economic in nature through the enactment of the Zimbabwe Economic Recovery Act (ZIDERA) by the US Congress in 2001.
The US and EU sanctions against Zimbabwe aggravate the suffering of ordinary Zimbabweans, while failing to change the behavior of the regime. Instead of motivating change and improvements, sanctions soured relationship between Zimbabwe and the West.
The present sanction episode against Zimbabwe started in December 2001 when the United States Congress passed the Zimbabwe Democracy and Recovery Act (ZIDERA). The act opposed extensions of loan or debt cancellation from Multilateral Financial Institutions ( IMF, World Bank and AFDB) to Zimbabwe. Thereafter the United States join forces in 2002 and persuaded their allies to impose sanctions on Zimbabwe.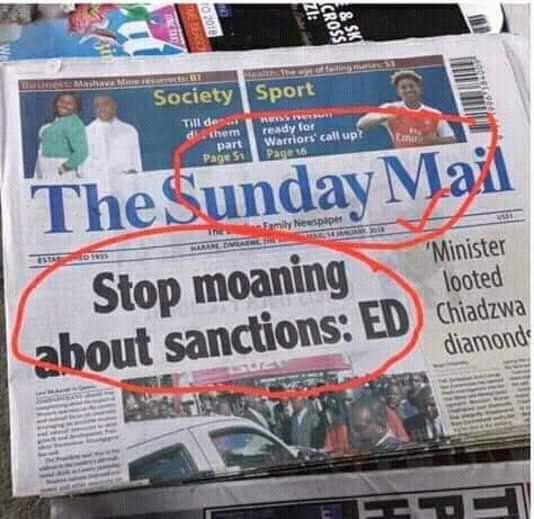 These punitive measures also barred these top state functionaries from traveling in and around Europe just as their personal assets and bank accounts were frozen. In addition, on September 2002, the Howard government in Australia imposed targeted sanctions on members of Zimbabwe government in protest against the deteriorating political situation in Zimbabwe, these included travel restrictions, arms embargos and targeted financial sanctions.
According to US and EU the sanctions were imposed in order to establish democracy, promote human rights and enhance the rule of law in Zimbabwe. Thus the sanctions aim to compel a change in the behavior of the regime. Contrarily, to the claim by many people that these sanctions are targeted, since the enactment of ZIDERA, the International Monetary Fund (IMF), the World Bank and the African Bank have denied state loan extensions, credits or guarantees, external market facilities and financial aid, thus indicate that the sanctions were a premeditated strategy utilised to collapse the economy of Zimbabwe.
Content created and supplied by: YourNews (via Opera News )