I have been in the trenches asking stubborn ZANU PF to be accountable to the people of Zimbabwe. This consciousness grew in me from my days as a student leader at the University of Zimbabwe Medical School were l served as Secretary General of the Zimbabwe Medical Students Association.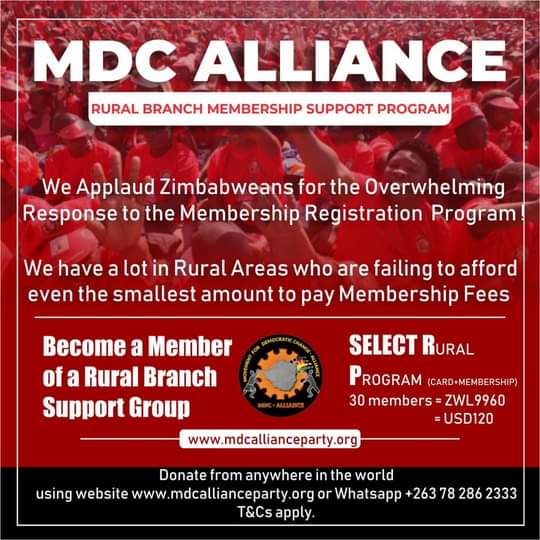 Each time l do this without fear, despite the obvious risk posed by this junta powered party. Along the way, like many other Cdes l suffered consequences of fighting the rogue state, but this is a matter for another day. Some close relatives and friends often feel uncamfortable when we take potshots at the very dangerous junta of ED.
They believe what l do is ideally right, but they suggest that l should not be on the forefront as l risky my life. However with the restless activist in me, the advice of people who love me so much has fallen on deaf ears. I am not one to keep quiet, so l am clear ZanuPfmustgo.
But today l want to focus my lenses on the MDC, the People's movement which we are all aware is in a serious crises. It is my utmost wish this great movement come out of these turbulent times. We have done it before, so l am pretty sure we can 'did it again'. It is a known fact that for one to craft a solution to a problem one must understand the nature of the problem, its origins and natural history.
I put it here and now that the crises we have today in the MDC resulted from President Adv Nelson Chamisa's unprocedural ascendancy to power. It is a very easy diagnosis to make, but like many diagnoses to numerous societal problems need boldness to pronounce.I vividly remember the rag tag takeover of power which took place after President Dr Morgan Richard Tsvangirai's (MHDSRIEP) death. It was marked by violence and intolerance which was emasculated from fair criticism by the excessive hullabaloo.
Those who dared to whisper a word of caution were instantly labeled sellouts with threats of physical discipline.But some of us nonetheless raised a red flag at the material time of the moment of utter madness. It was unpopular to do so, considering the immense euphoria that engulfed NC's ascendancy. But despite the seemingly popularity of the decisions and actions taken during MT's funeral, such actions have no place in a democratic society we envision. Such actions should invite condemnation from all protagonists of ZanuPfmustgo. Secondly the way we treated Cdes who held a different opinion from ours was just wrong. It was crude, intolerant an inhumane.
After the sad depature of our icon, it was visibly clear that NC was by far the most popular leader within the rank and file of the MDC. It was a given that NC would win any contest in the party hands down.Because of this background l shudder to imagine why he could not wait for due processes to take place and regularise his presidency.
I have no illusion in my mind whatsoever that NC would have emerged the democratically elected President.But we could not wait. We were in a hurry. We swallowed before mastication and there lies the resultant political constipation from which we are sweating today. From this end we raised the alarm bell, but our voice was muffled amidst the frenzy of euphoria of trigger-happy Cdes.
There are key lessons which we should learn from this whole debacle. Firstly no matter how popular an idea might be, it must be put through the constitutiona processes.This is particularly so with a party that brags of being the alternative to Zanupfmustgo.The rise of NC to the presidency was cheered by the majority of party members, but that does not make it constitutional. It was matter of factly unprocedural and hence illegal. Those who cared knew this with or without the Supreme Court ruling made by Justice Bharet Patel. It is akin to ED's coup, which was naively celebrated by compatriots , but some of us just like in NC's scenario were brave to call a spade by its name.
The second lesson and very fundamental is that all leaders are fallible and hence should not be wall-fenced from constructive criticism. There is a sad trend that has been developing in the MDC and its associates which need quick rectification. This development is the thinking that NC is infallible, therefore immune to criticism. NC himself seem to have fallen prey to this run-of-the-mill belief as evinced by his failure to realise that indeed the crises we find ourselves in is his own creation. As far as l am concerned, he should publicly admit and apologise for his errors of omission .This is what accountable leaders should do especially those whose objective like mine is #ZanuPfmustgo. In other jurisdictions where we borrowed this concept of democracy, with what has happened in the MDC leadership would have resigned. I am not suggesting that anyone should resign at this stage as l am fully aware that this is not part of our culture, at least for now.
On the other hand party members should not reduce themselves to fanatics, as we have learnt fanaticism has a price to be paid. We should learn to speak truth to power all the time. Academics alike should not become bootlickers as we are noticing lately with some academics, rather they should keep leaders under scrutiny and give balanced and organic thought leadership. It is an ugly scene to see supposedly political analysts reducing themselves to blinkered cheerleaders. Some of these have PHDs archieved in very prestigious citadels of learning institutions, hence we definately expect better from them. Their input is very critical in shaping public opnion.
Thirldly Leaders in the party should learn to manage and resolve internal disputes amicably. Just like in any grouping people should not necessarily agree all the time, but those with a different opinion from ours are not enemies, they are not Zanu Pf, and neither are they CIO.
I have already mentioned that the way we treated Thoko after the death of MT was not indicative of traits of inclusive leadership. We could do better Cdes, and of cause we could do that with a bit of love marinated with respect.I questioned why we went all the way to re-call this woman from Parly. For me it was insensitive and quite vindictive. We could have done things better. We could have left her in Parly and with the passage of time build bridges with this longtime Cde. But leadership with a choir of overzealous fanatics was seen celebrating the ouster of Thoko from parly as if they had won an inch of statehouse. It is these pseudo-victories that often smokescreen us from our objective of ZanuPfmustgo. Personally l have never celebrated a split of our great movement. Up to today l know that splits are neither in the menu of mobilization nor are they in the cocktail of recruitment.
Lastly but not in any way the least is the lesson that organs of the party should play their oversight role of putting checks and balances to decisions made by the Standing Committee and even the Presidency. The Youth Assembly should be the vanguard of the party ideology, not to be abused as a violent brigade. Equally the Women assembly should be an assembly for putting all party decisions through a refinery process. It is not a fora for ululating and praise singing.
Content created and supplied by: YourNews (via Opera News )