Moshoeshoe (c. 1776 – 11 March 1870) was born at Menkhoaneng in the northern part of present-day Lesotho.
He was the first son of Mokhachane, a minor chief of the Bamokoteli lineage- a branch of the Koena (crocodile) clan.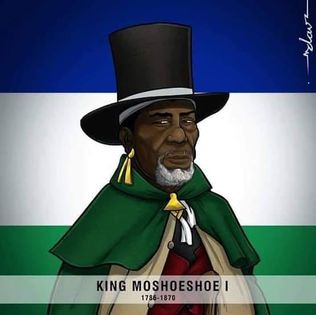 In his youth, he helped his father gain power over some other smaller clans. At the age of 34 Moshoeshoe formed his own clan and became a chief.
He and his followers settled at the Butha-Buthe Mountain. He subsequently became the first King of Lesotho from to 1822–1870.
He stabilized Central South Africa during the lifaqane/ difaqane war by uniting the local clans or tribes and He was chosen as the king by the chiefs from all tribes as Chief Moletsane(The leader for Bataung/ lion tribe) said "We came here to be under your protection so you are our King".
He also defeated British and when the appatheid, Boers came he wrote the letter to the queen of Britain telling them to colonize Lesotho because he can not fight two enemies he did not have the guns.
Source: South Africa history
Content created and supplied by: Alupheli (via Opera News )