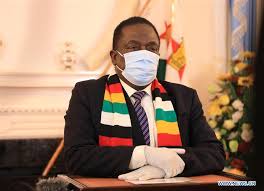 The President of Zimbabwe today made an address regarding the Zimbabwe national lockdown.
This comes after the curtains were supposed to be brought down on the extension of the lockdown which was announced by the Vice President Constantine Chiwenga earlier on.
This home the Zimbabwean president defied odds as he chose to go contrary to what their southern neighbors South Africa have done of let.
It was widely expected that Mnangagwa was going to ease restrictions and allow the masses in the impoverished nation.
No aid, grant or food parcels were distributed to the starving masses since the coronavirus made its way into the teapot shaped nation.
Today's Mnangagwa address had these as major highlights:
# Lockdown will be extended by 2 weeks until the 1st of March 2021
# Business hours will get a slight extension as they will now be from 8AM to 5PM, while the curfew will run from 8PM to 5.30AM
# No inter-provincial commuting is permitted for now
# A maximum of 30 people will be permitted at funerals and all other forms of social gatherings are still banned
# Companies which are seeking to reopen must test workers for the coronavirus before they may resume their operations.
# Schools and all academic centers will remain closed until further notice.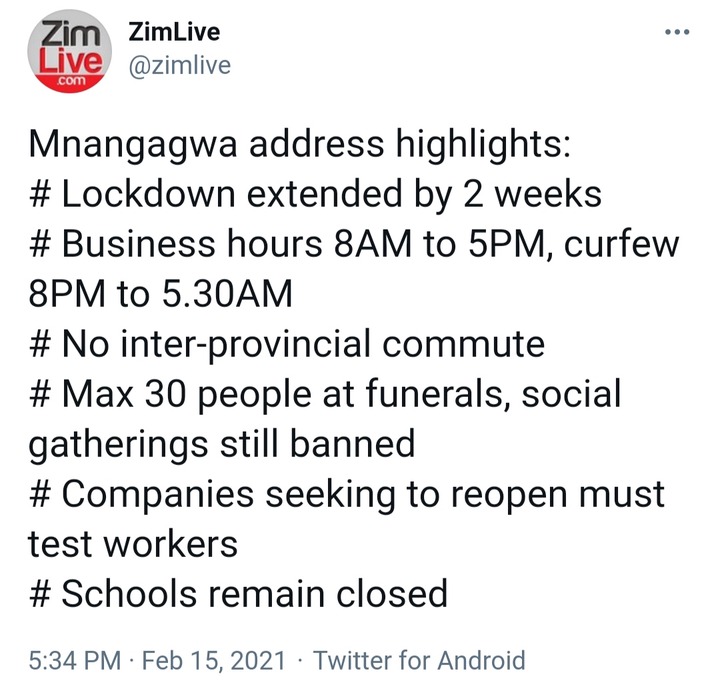 Some have rushed to say the president has no option as the Coronavirus pandemic has been sweeping all his close aides and he is in fear of opening the economy.
The masses have condemned the latest update regarding the state of affairs in Zimbabwe as they now blame the president of being clueless and lacking vision.
Opposition politicians say Mnangagwas administration has lost touch with reality as the education system has been the most affected.
Since March last year, schools have only been opened for 3 months. This has been largely due to the ill-preparedness of the schools to take in learners as they do not have the necessary resources needed in times of the pandemic.
Learners have not been given resources which support their learning activities from home. Rural schools and poor members of the society have been completely blacked out from learning activities during this period.
Companies also bemoan the lack of an operating environment that is conducive as the government has not been to their aid.
The masses too who are vendors have their source of living affected by the regulations.
The only hope will be an effective vaccine which had its first batch arrived today in Zimbabwe.
Content created and supplied by: AfricanChannelNews (via Opera News )