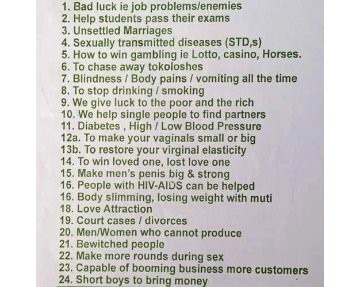 Many South Africans put them lives in serious danger in the name of seeking help from prophets, traditional healers etc. If God says no nobody can say yes and if God says yes nobody can say no.
People end up doing wrong things because of poverty, sickness etc. A 32 year old woman in Bushbuckridge is not enjoying life because of poverty and she wanted her man back since he abandoned her with the children. One day as she was going to the mall she got was given a pamphlet and was told that all her problems will come to an end.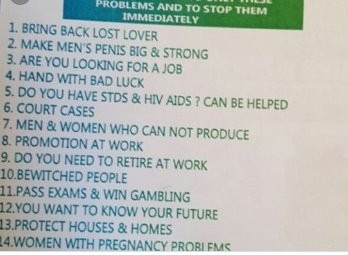 When she got home she made a call and she was directed to the place . She went to the place the following day and she said when she arrived at the place she was welcomed by a certain man. The man took her to a building and told her to sit and the man disappeared. Then a voice came out from nowhere and told her everything about her life. The voice said " your man will call you now " indeed the man called and told the woman that he would like them to solve things between them and ended the call.
The woman paid R50 at first and was told to pay another R3000 for her to be rich. When the woman was about to leave,a certain woman told her to never come back again , because the thing of becoming rich will need blood in the family and if you fail to offer what is needed you die.
So everyone please be careful and take good care of yourselves. Your current situation is not a permanent thing ,just wait for God's time because it is always the best.
Content created and supplied by: SimplicityB.A (via Opera News )