Johannesburg - Cosatu has demonstrated that it could dump the ANC at the surveys when the impending races if its conversations with the SACP prove to be fruitful. 
Following its focal chief board of trustees meeting, the organization declared on Thursday that it was progressively doing combating to mobilize laborers behind the ANC, which it blames for bombing them. 
Cosatu general secretary Bheki Ntshalintshali said the ANC-drove partnership was confronted with a genuine emergency of authenticity and that the organization's CEC would before long meet an exceptional seating to think on the stance of Cosatu in front of the 2021 races. 
"The CEC meeting recognized that there are serious issues confronting laborers that will make it difficult to persuade laborers to help the ANC during the forthcoming decisions. A portion of these difficulties have left numerous laborers feeling like they are being approached to cast a ballot against their own advantages," Ntshalintshali said. 
Cosatu has blamed the ANC for being ceaselessly tormented by divisions, sick order and the powerlessness to actualize reformist approaches in government, including its own goals, for example, those of its Nasrec meeting in 2017. 
Ntshalintshali called attention to that while laborers had in every case primarily upheld the overseeing party at the surveys, this was not unrestricted. 
"Laborers have consistently clarified that their help for the ANC doesn't add up to a limitless ticket to ride, and recently wouldn't crusade or support applicants known to be bad or languid, on the grounds that they prevailing with regards to controlling the ANC inside cycles," he said. 
He showed that the organization would hold reciprocal gatherings with the SACP to examine the matter and its goal to challenge races. 
"We accept that the conditions won't ever be ideal for the gathering to respond to this inquiry. The organization accepts that the gathering ought to make these conditions. Also, we will request that our vanguard gathering of the common laborers, to address a portion of its inside shortcomings," he said.
Source: https://www.iol.co.za/news/politics/cosatu-considers-dumping-the-anc-at-the-polls-71c022bf-c2c9-4049-8cd3-b1541c852b5d
Please Like, Comment, Share and Follow...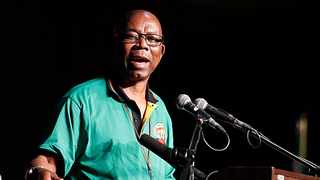 Content created and supplied by: Marcus535 (via Opera News )