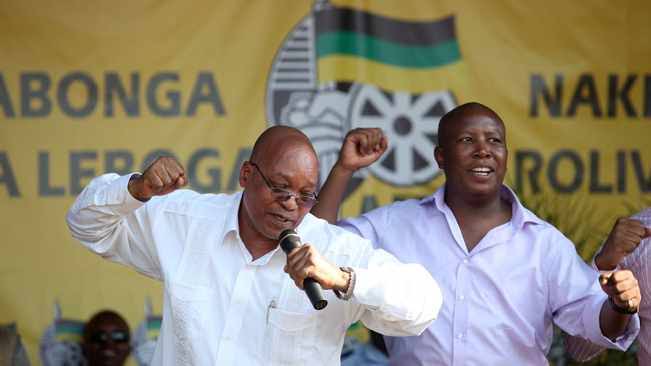 Well, many people are rooming in the darkness regarding the relationship between Economic Freedom Fighter's leader Julius Malema and former President Jacob Zuma. Many citizen are curious to know what went down the tea party today.
Today served as a historic moment that made a social media conversation a reality, when Malema, accompanied by Pambo and former Party Chairman Dali Mpofu, arrived at Nkandla by helicopter around noon for a tea.
When the country was the architects of "Jacob Zuma Must Fall" architects and behind the drive for #PayBackTheMoney for Nkandla. Hell, the thought of locking Msholozi up was also entertained by the EFF leadership. But it during that period, Julius Malema and his party are we're supporting Msholozi all the way.
The controversial leader is known for not entertaining what everyone agrees on, he sometimes stand out and stand his ground. A lot of people are still in the dark about the intension Malema have towards Zuma.
It is no secret that Malema was a die-hard Zuma loyalist during his tenure as ANC Youth League president who had backed Zuma for the party's presidency in the run up to the 52nd national conference of the ANC in Polokwane.
So his intensions are real and pure, so is the request to have a tea date with the former President.
Source 1: https://www.sabcnews.com/sabcnews/malema-arrives-at-zumas-homestead-in-nkandla/
Source 2: https://www.dailysun.co.za/News/malema-and-zumas-tea-meeting-takes-place-20210205
Content created and supplied by: ArthurM (via Opera News )