Panoploscelis commonly referred to as spiny lobster katydids or giant lobster crickets is a genus of very large insects belonging to the true katydid tribe Eucocconotini which is a subfamily of the katydids.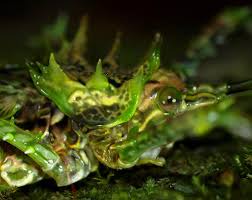 Even though the katydid may look some how scary, they are actually very gentle which is why they can be kept as a pets. However if they feel threatened they will give a bite and this happens usually on the bigger kitydids.
In most culture the katydid signifies wealth and it is sought to be a good sign of goodluck. The katydid can actually be eaten especially the head. It contains valuable source of protein and calcium.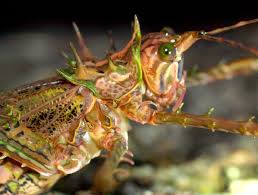 The katydid are very bad in flying. Many species do not fly but they can only flutter their wings during leaps. They have a lifespan of a year or less.
The katydid are mostly known for the sounds that they normally make which led them to be called katydid. It was thought that the sound they were making was "katy did"
They are endemic to the remote and relatively inaccessible neotropical rainforests of Central and South America. They normally feed on leaves and insects.
Content created and supplied by: Phukubjenthaa (via Opera News )