Initially, Heather and Joshua were happily raising their daughter together in a picturesque town. But everything changed when Heather started hearing weird footsteps coming from the kitchen, thumping on the floor, and screeching door hinges at night. Even worse, when some strange scratches continuously appeared on Lily's face, Heather grew more worried.
1. Tensions Began Rising
Heather asked Joshua if he'd been into Lily's room in the middle of the night. Although he persisted in saying he was not involved in any way, she remained suspicious. Tensions between the couple began rising, and Heather determined to figure out everything by herself. If Joshua was hurting her daughter, there was no way to turn a blind eye.
2. Baby Monitor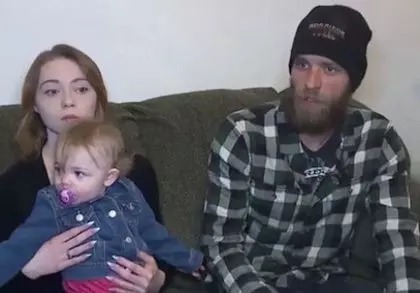 To find out the truth as soon as possible, Heather bought a baby monitor. Joshua helped set it up and suggested putting it at a proper place to check whether Lily was scratching herself. Heather agreed and trimmed Lily's nails.
3. More Scratches
The baby monitor had a night vision feature that would allow Heather and Joshua to find out the truth. After a sleepless night, they couldn't wait to check on Lily and the monitor's video in the early morning. However, something even more shocking happened. They found more scratches on Lily's face! It was time to review the video.
4. A Creepy Figure
According to the video, a figure of a man appeared in Lily's room. Heather doubted that Joshua was sleepwalking. But what about the weird noises and the creepy scratches on her daughter's face? With a heavy sense of dread, Heather was aware that she must continue investigating the confusing situation.
5. A Bizarre Stranger
Therefore, Heather rechecked the video and noticed Lily pulled herself up with the help of her crib's side rails. Obviously, she was aware of the strange man in her room. When the shadowy figure moved close to the monitor, Heather suddenly realized that this strange man was not Joshua at all! This mother was breathless and couldn't imagine what this stranger was doing to her little girl.
6. Transparent Body
The man was traipsing through their house and made strange noises. When he passed Lily's crib, his body became thoroughly transparent! Heather watched the video over and over but still couldn't believe her eyes. She recognized that they must leave the house as soon as possible.
7. Getting Help
Joshua was scared by what he saw as well. At that moment, they suddenly realized Lily's little hands didn't match up to the scratches on her face. When thinking of the shadowy and ghostly figure, they were shaking with fear. Hence, without any hesitation, they called the police and got in touch with the Scientific Paranormal Investigations of Michigan.
8. The Home Investigation
Mike Priest from the Scientific Paranormal Investigations of Michigan took a team to their home. They then checked the video and the whole house. As a consequence, the report showed that this house could be haunted. After knowing that, Heather suddenly remembered a more creepy occurrence.
9. The Unknown
Heather shared: "I woke up to get ready for work one morning, and it felt like someone was choking me." She continued: "There have been times where my fiancé and I would wake up in the morning and hear an angry male voice like someone had stubbed their toe."
10. Weird Sounds
Priest set up recording equipment with his team and hoped to find more information. Then, some strange sounds were recorded: "Oh here we go. Oh yeah." Priest heard it as plain as day. But they still wanted to find a logical explanation before concluding that it was a supernatural event. Kris, Joshua's mother, might give them more clues by revealing the house's origins.
11. The Previous Family
According to Kris, they moved into the house. The previous owner fell down the stairs, broke her hips, and laid for a very long time before passing away. The guest house where Heather and Joshua were living was built for the owner's brother, a schizophrenic man. Kris's husband Jim added that the gentleman finally jumped out the window and died.
12. Confusing Intentions
Though Heather still had no idea of the truth, she was freaked out by the "spirit" and wanted to move out as soon as possible. What made her unsettled was the confusing intentions of this unknown being. It was not just going after Lily, but going after her family as well. Heather was worried it would do physical harm to everyone living in the house.
13. The Viral Video
After long deliberation, Heather decided to share the monitor's video on social media and ask for help from the public. Before long, the video went viral and scared many people. However, some netizens expressed skepticism, believing that there must be a logical explanation behind it.
14. The Skeptical Inquirer
The video was also noted by the Skeptical Inquirer, a magazine encouraging the critical investigation of controversial claims from a scientific point of view. Since the paranormal activity was still questionable, this magazine hoped to provide a reasonable explanation behind Heather's unnatural occurrences.
15. A Shadow Of A Ghost
Kenny Biddle, a writer for the Skeptical Inquirer, noticed that the "ghost" had cast a shadow. In the first milliseconds, the figure's shadow moved across the ceiling right by the ceiling fan. Hence, he believed that the so-called ghost was a tangible and physical object because it reflected light.
16. The Logical Reason
Biddle surmised that either Heather or Joshua had walked across the room and had been accidentally recorded by the camera. Due to a lack of knowledge about the baby monitor, they erroneously believed the distorted figure was a ghost when checking the footage. As for the weird scratches on Lily's face, it was likely that she had scratched herself while sleeping.
17. Motivation
To make a reliable conclusion, Biddle checked Heather's Facebook page to get more information. He discovered that she was asking for $5,000 to move out of the guest house, citing her daughter's safety as the main reason for the fundraising. After finding a logical explanation behind the video, he threw doubt on her motivation and hoped to talk with her.
18. Longer Clip
Biddle reached out to Heather on Facebook. The published video started with the figure already in motion, but he hoped to get a longer clip and see where it originated. The more information he was able to find, the closer he got to the truth. But unfortunately, Heather never replied to him.
19. The Psychology Behind It
Though we are in the 21st century, many people are still profoundly convinced that paranormal activity must be real. However, psychologists explain that some "supernatural events" are just created by some faulty brain behavior. In other words, the figure of a ghost is probably just an illusion. Who knows when our brains will cheat us in unexpected ways?
Source: https://www.buzzaura.com/a-couple-caught-something-terrible-on-nanny-cam-after-finding-scratches-on-babys-face/
Content created and supplied by: Wesley4658 (via Opera News )