as much as our south african educational system seems to be striving and among the one of the best when compared to those another parts of africa.i think there is one that we have doing wrong as a country when it comes the education we give our kids.
What we have been doing wrong is teaching our young all that we teaching them now and leave some financial education.if you should look at the educational streams in our high school people who gets enough if this financial education is those in the commercial stream.and this is bad because we all need that knowledge because without it we end up making some bad financial decisions and drowning ourselfs into debts.
For example look at screenshot below.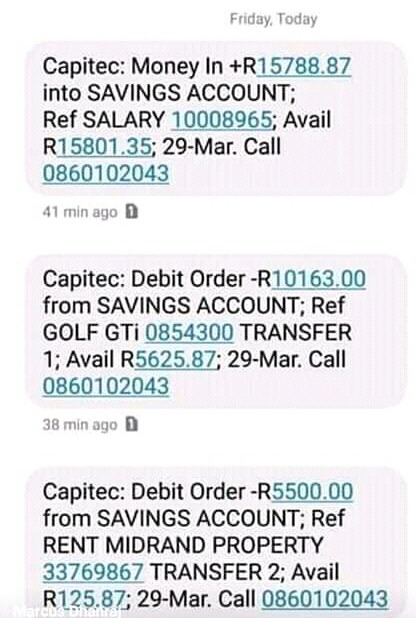 This is really bad to see that lack of financial education has someone working for a car and rent only.if you should look at the balance left in this individuals account it can't even last him for the month nor finance himself in anyway.by just looking at the type of his debit orders i assume that you will agree with me that he is wasting money.
If you are out there and you are not employed when you finally do get employed do not be this type of a person.know the difference between your needs and wants.a sport car is a want you can settle for a regular car which won't cost you an arm and a leg with its installments.
SHARE The ARTICLE TO SPREAD THE AWARENESS
Content created and supplied by: RastaWrites (via Opera News )