The late Zimbabwe Ambassador to Mozambique, Retired Major General Douglas Nyikayaramba who died at St Anne's Hospital in Harare may be laid at the Korean built National Heroes Acre in the capital. He was one of the instrumental player in the November 2017 military coup which toppled Robert Mugabe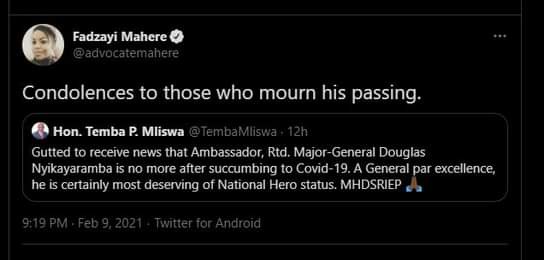 The late revolutionary former freedom fighter was repatriated home from his foreign base in Mozambique after his health deteriorated and subsequently admitted at St Anne's Hospital for medical attention. He however sadly passed on.
He has served on different postings both on the home soil, regionally and on the international scene whose credentials were a resemblence of a decorated military person. Though by the time of publishing, we had not ascertained when and where will his body be buried.
However flags were spotted flying at half mast which is a strong lead that late RTD Major General Douglas Nyikayaramba is most likely to be buried at the National shrine. The latest statistics on deaths of highly ranked government officials has caused a major stir to The Second Republic which has seen four Ministers dead due to Covid-19 pandemic. 
These include three cabinet Ministers, namely, Rtd Air Chief Marshall Perence Shiri ( Agriculture ) Rtd Major General Sibusiso Moyo ( Foreign Affairs and International Relations ), Engineer Biggie Joe Matiza ( Transport and Infrastructure Development ) and one Provincial Minister of Manicaland, Dr Ellen Gwaradzimba.
They were all honoured with heroes and heroine status and all buried at the iconic kopje near Warren. Park 1 in Harare
My Opinion
Content created and supplied by: YourNews (via Opera News )